Sailng on Windwanderer.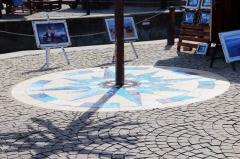 29th May 2015
Friday 29th May 2015
Friday 29th May 2015
I'm sitting here on our new bench using one of my hand painted coasters that I just finished, we could not find any for our new outdoor area, that I liked and we had some left over timber from the refit so I decided to get crafty and make our own.
It almost turned into as much drama as the bench itself, well not quite The Captain came to the rescue and helped with the little timber surrounds and with a bit of sanding and putty they actually turned out not to bad at all.
You see I have been a bit crafty lately, I was getting very bored we have been here way too long, and I just can't sit around doing nothing.
It all started when my girl and Anthony finding out the sex of their baby which I'm not allowed to say yet, but this got Grandma into action, I started buying material to make some cute baby clothes, then I had to find a cheap 2nd hand sewing machine, as my last one Davy Jones is now using, it was in a locker that leaked and rusted away, I took it out one day took one look at it and walked up on deck and threw it overboard.
So many weeks later I finally found a lady who was selling one cheap and brought it, but by this time I had already moved on to crocheting, I have made some cute boots and hats and have now started on a blanket, than the bench got finished so have moved onto coaster making, I also raided The Captains tool box and made a necklace and bracelet with washers, he was not too happy about losing these and he may have just hidden the rest from me, before I go too crazy...haha
Just to jump back a bit, I know I have once more been slack and have actually not written anything for about 8 weeks, but we have been busy here.
When we first got here I would of never dreamed that we would of been here for so long, we only planned to stay about 10 days now eight weeks have past.
The first few days here were terrible we were hit with horrible storms, one in particular had us up all night, with me in tears, it was horrible, we had gale force winds and heavy rain, earlier in the day we had moved the boat into what we thought was a better position, as we were in quite shallow water before, they have massive tide changes and strong currents here and the boats just don't behave like they are suppose to, they tend to go in all directions, our new position meant we had to use less chain than we would have liked this was so we would not hit any other boats when we swing with the tide.
But this resulted in the anchor dragging with the big winds, all night long we fought off another boat we had to start the engine and use the chain to get us away from it, playing tango with another boat in strong winds and heavy rain is no fun at all, I tell you, the next day we managed to move onto a mooring so all the anchor dramas went away, thank god I don't think I could of gone through another night like that, it had to be our worse experience at anchor ever.
We had a guy out here for days on end fixing our engine and bits and pieces, which is all working fine now, too.
Then we contacted Clive the guy who had made the original bench on here, we wanted to get rid of the ugly white box on the back deck and move the bench back add some side seats and have a table as well.
It kinda is an extension of the cockpit, in a roundabout way.
Sounds easy and straight forward hey, well let me tell you there was nothing easy or straight forward about it at all.
First it was going to take 10 days no problem, this turned into over 5 weeks.
Between bad weather and ferrying them and the bench back and forth a million times, it drove us crazy talk about stress overload.
First off we decided it was going to be too small, when you sat on it, it felt like you were sitting in a little kids chair, with your knees up around your ears, so that had to be changed, we talked it over with Clive and agreed on a new height.
They get it out here on the boat and I just hated it, it looked way to big and to make matters worse, when I stood in the cockpit I could not see over the back of it.
This was a major drama, not only does The Captain have to be able to see when coming and going into marinas and stuff, I need to be able to see boats around us when we are setting the anchor and pulling it up.
I went out and measured it and it was almost 10cm higher than what we asked so out they come again load it back into the dingy take it back and fix it again.
It's finally now in place with a bit more changes here and there it's finished, are we happy with it? About 80% I would say, it's not exactly what we wanted the workman ship could of been better but overall it's not too bad at all. We will get a lot of use out of it, if we can only get somewhere warm enough to use it..haha
We also have had dramas with our outboard motor, I forgot to mention in the big storm we had lost our dingy when the rope chaffed through the following morning I spotted it on shore and with a few phone calls we got it delivered back to us minus the outboard and fuel tank, yeap someone had stolen them.
We were not happy chappies at all, but at least we had our old outboard so all was not lost.
Until it decided to play up, Murphy's law at its finest. The prop kept slipping, I can not tell you how many times we have had to row, once even right into shore which is a long way in.
The Captain and our friend here mark decided to try and fix it one day at their place which was a nice excuse to have a BBQ at their house with some other friends as well, this worked for a few days, than it came loose again, we ended up borrowing a outboard on and off while The Captain tried to fix it many times over, we tried to get a new prop but could not find one here at all, actually nowhere in South Africa had one.
We then Contacted a good friend in America, Roger who came to the rescue and has purchased one for us and it's been sent to Cape Town so hopefully it will be there waiting for us when we get there.
The last few days we have been nursing the prop taking it real easy after the last fix The Captain had done, all was going great, until a few days ago, when we climbed into the dingy, start the outboard, it makes a funny noise, The Captain, lifts it up out of the water and the prop has gone, problem solved, once again Davy Jones has captured a prized possession...haha
We are now well and truly ready to move on, we are sitting waiting for a weather window, Saturday is looking good so far.
We really have enjoyed our stay here, I have walked the streets, there is not a shop that I don't know...haha we have discovered some fantastic restaurants and have spent many a lovely time enjoying there food and wine, but it's getting really cold now and the ocean is calling us back once again.
Well tomorrow is another day.
Diary Photos
29th May 2015 Image
Knysna
---
29th May 2015 Image
Knysna
---
29th May 2015 Image
Knysna
---
29th May 2015 Image
The club
---
29th May 2015 Image
Knysna Yacht Club.
---
29th May 2015 Image
Our shopping trolley, not at all sure I want to walk with him...haha
---
29th May 2015 Image
My new drink coasters.
---
29th May 2015 Image
My jewellery from The Captains washers
---
29th May 2015 Image
Yeap we need a new flag.
---
29th May 2015 Image
The local seal we see a lot of, him swims around our boat often
---
29th May 2015 Image
What to do with the kids out sailing and the wind drops, just tow them all in.
---
29th May 2015 Image
Just a fantastic sunset.
---
29th May 2015 Image
Knysna
---
29th May 2015 Image
Knysna
---
29th May 2015 Image
Walking around the waterfront.
---
29th May 2015 Image
Being a bit naughty...haha
---
29th May 2015 Image
Yay made it.
---
29th May 2015 Image
The Captains sister and Brother in law, George and Heather, trying so hard to get the right pose.
---
29th May 2015 Image
When family come to visit, The Captains Nephew Craig.
---
29th May 2015 Image
Still at it.
---
29th May 2015 Image
Still working
---
29th May 2015 Image
Work getting done
---
29th May 2015 Image
Work getting Done
---
29th May 2015 Image
All gone
---
29th May 2015 Image
Another before pic
---
29th May 2015 Image
Before pic
---
29th May 2015 Image
The ugly white box.
---
29th May 2015 Image
The back view.
---
29th May 2015 Image
Finished.
---
29th May 2015 Image
Other than a second coat of oil.
---
29th May 2015 Image
And it's done.
---
29th May 2015 Image
One of the workers.
---
29th May 2015 Image
Clive
---