Sailng on Windwanderer.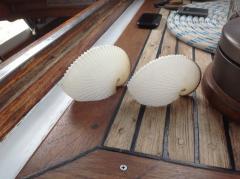 30th May 2015
Saturday 30th May 2015
Saturday 30th May 2015
The hunt for the Pansy and Paper Nautilus Shells.
Yesterday someone on board here had a Birthday, and no you do not need to know how old I am, am feeling way older than I am anyway...haha
Especially after our little trip into the marina here to get fuel, going into marinas always puts fear in our hearts I tell you, we hate it with a passion, if there was a way we could of got out of it easy we would have.
But we needed to get over 700 litres of fuel so other than ferrying it back and forth in jerry cans, we had to bite the bullet and go in.
Of course we did our research first, we checked out where we need to go, how and what direction, what side we needed to be on, make sure it was high tide, and no wind blowing, fenders all tied up correctly, fuel truck ready, and enough people on shore to grab our ropes as we come in.
Man where did the days go when we could just drive into a servo and fuel up with not a worry in the world, so so easy.
Just to make matters worse, we will be completely on show for the whole place to watch, you see where we have to tie up, is a wall right out the front of many restaurants and shops, we so don't wanna get this one wrong, it would be so embarrassing.
So we get the boat ready, pack stuff in safer spots, close the back hatches and start the engine with crossed fingers, (it has not been started for well over a month.)
It starts perfect first go, The Captain races up front to let go of the mooring ropes while I stay at the wheel just in case we drift anywhere.
We head in, with a close watch on the depth sounder, this marina has a very small entry and a tight turn, but we made it fine, even though we were both holding our breaths and I know my hands and knees were shaking.
Now we come up to the wall, there is a big boat on one side and the space looks very small for our boat, and there is no one in sight to catch our ropes, just great.
Panic is starting to set in, then we spotted the guys coming around the corner, thank god, we get closer I throw the first rope and it lands short right in the water, yeap the pirate language was flowing, I madly pull it back out of the water throw it again and this time it hits the mark, in next to no time at all they have us safely attached to the shore.
With a huge sigh of relieve we made it, we get the fuel, top up our water, and set back out again, this all took hours, but we still had enough high tide to get back out again, this time we had no help with the ropes so with me running to untie all the ropes and The Captain making sure I could jump back on the boat in time, we headed out once again and all done in perfect order, man we looked so professional if only they knew....haha
Now to get back to Birthdays and shells.
Before I get into this saga, I have to tell you we have a serious problem.
Not only do we live on a boat, what do we do for my birthday, we hire a car, drive down coastal roads to a place called Buffalo Bay, walk along the beach, searching for the elusive Pansy and paper Nautilus Shells, have a bite to eat at a restaurant on the beach go for another drive get to another seaside place called Mossel Bay, walk through a Maritime Museum, than an Aquarium, can you see a pattern happening here, we so need another life...hahaha
But we did have a great day, even if it was all nautical stuff, the beach was lovely and no we found no shells at all even though we have been told you can always find them on this beach. ( they lied)... Haha
The museum was great we got to see and walk around a famous replica of the Ship called a Caravel it was a Portuguese ship dating back to the 1400's this ship was the first to sail around the bottom of Africa looking for an easier way to bring spices from the East, they used to bring it all by Camels overland.
I tell you I'm so glad we don't have to sail a ship like that now, man they had it tough.
The Aquarium was good I have seen better but because I was obsessed with shells at that moment it was very enjoyable, they had fantastic shell displays.
They also have in the grounds what they call the mail tree. Dating back to the 1400,s where a guy left a message in an old boot tied to the tree, the next passing ship, found the message and this started a trend where every passing ship would leave a message and so on, you can even post a letter today in a boot statue that they have there and it will be delivered.
But I still had the problem of no shells, we hunted around in shops and stuff to see if we could buy some than found out, they are protected and they are not allowed to sell them anymore.
But my new best friend came to my rescue, Mark has been picking up these shells for years and today he gave us two Paper Nautilus shells and tomorrow I'm on a promise for a Pansy Shell I can't wait, thank you so much again Mark.
Well tomorrow is another day.
Diary Photos
30th May 2015 Image
My Paper Nautilus Shells.
---
30th May 2015 Image
A pic of a Pansy Shell
---
30th May 2015 Image
The restaurant beside us.
---
30th May 2015 Image
No Description
---
30th May 2015 Image
Yeap not a great deal of room.
---
30th May 2015 Image
At the wall.
---
30th May 2015 Image
All tied up.
---
30th May 2015 Image
The details.
---
30th May 2015 Image
Inside Cabin.
---
30th May 2015 Image
Deck.
---
30th May 2015 Image
The deck.
---
30th May 2015 Image
The Ship.
---
30th May 2015 Image
The Ship.
---
30th May 2015 Image
The Captain being a Captain.
---
30th May 2015 Image
The Birthday girl on the beach.
---
30th May 2015 Image
The shoe statue.
---
30th May 2015 Image
Info on the tree.
---
30th May 2015 Image
Mail tree.
---
30th May 2015 Image
The mail tree.
---
30th May 2015 Image
How nice is it.
---
30th May 2015 Image
I want this toilet.
---
30th May 2015 Image
Am old camera.
---
30th May 2015 Image
This is made out of icing and was donated to the Museum.
---
30th May 2015 Image
Whale bones.
---
30th May 2015 Image
The mail spot.
---