Harry and Judy's RV Trip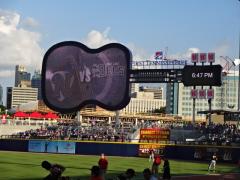 4th Jun 2015 - Summer 2015
Day 4-June 4, 2015-To Nashville and more baseball
Day 4-June 4, 2015-To Nashville and more baseball
Drove 145 miles in 2-3/4 hours. Sunny and 80. Cool again last night, we got the extra blanket from under the bed and it came in handy.
Entered Central Time Zone so we gained an hour and got into the campground at noon. We've stayed here a few times before-it's right across the street from the Grand Ole Opry and the Opryland Hotel. We're a week too early for the CMA Music Festival but from being here before we know there's always music in Nashville. There's even entertainment at the campground from 7-9PM. Set up, had lunch and Harry tried to tighten the bikes up (the bikes always give us a hard time). I went in the pool for a while which was much colder than what we're used to. Harry lasted about 5 minutes, but once you got used to frozen body parts it was refreshing.
Baseball game tonight was Nashville Sounds and they beat the Salt Lake Bees 4-2. They have a new stadium, First Tennessee Park, which only opened last month. It's built on the same site as the original Sulphur Dell where the Nashville Volunteers played until it was closed in 1963. To celebrate the return of baseball to the Sulphur Dell the team was in the Volunteers uniform and beer prices returned to what they were in 1963. The game was packed-over 10,600 (vs. 2100 at the Chattanooga game). This was the largest attendance since they opened last month. The parking was horrible-even though it was free because of 1963 prices and we got there over an hour early the closest lot was filled and we had to park over a half hour walk from the field. They're building a new 10,000 car underground garage set to open in Oct. Tell that to my hip.
Diary Photos
4th Jun 2015 Nashville Sounds scoreboard
No Description
---