sailingfastforward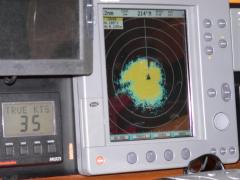 3rd Sep 2007 - 18th Sep 2007
PALMERSTON - Simply Unforgettable
Bora Bora to Palmerston 2 - 6 September 16.30.03S; 151.43.95W
We left Bora Bora on Sunday 2 September at noon for the atoll of Palmerston which was 650nm away – a 4 day sail for us. We'd read about this place – many cruisers claimed it was the highlight of their circumnavigations. How could one more atoll be so memorable? Put that thought on hold for a while…
We had mixed weather en route - for the first 24 hours there were NE winds at 20kts which was great. It then switched to NW and SW (not a good angle) and all the way round to ESE (which was perfect) - but then on Tuesday we had a DREADFUL system come through. It was a horrible 12 hours... we had pouring rain for 6 hours and winds up to 30 knots. Then at 6pm the rain stopped and the winds picked up to 43 knots!! The seas were HUGE (it's difficult to judge, but at least 15-17ft)! We had 3 reefs in the main (to just give the boat enough canvas to push us forward slowly), no other sails up, and were doing about 4 knots - we normally do about 7-9, but in this situation speed was not the issue!!, we were trying not to surf down the waves, but to gently glide up and down them. We also had huge rogue waves crashing against the side and breaking OVER the whole boat!!! My nerves!!!! We must've had at least 20 crash over the boat in 6 hours from when the wind picked up. We've also never had water in the cockpit… we have big clear vinyl sides that slide into sides of the bimini to keep us dry, but the water still managed to get in!! Poor Ken was drenched! Thank goodness it was dark and I could not see the sea!!
Then to crown it all - we had one huge wave hit us side on and the force of the water tore the end off one of our side cockpit covers, and a wall of water drenched Ken again (who was already kitted out in foul weather gear).... in case you're wondering, I was cowering inside the companionway (eyes glued to the radar and praying for it to end!) – honestly, I was not nearly as scared as I thought I'd be. Alas I was soon put to work, after Ken got drenched I heard water downstairs – oh happy days - it managed to squeeze through two small vents we have in the galley (another first I might add) - needless to say the WHOLE galley was also soaked (nothing worse than salt water inside your boat!!! What fun it was cleaning it up and hanging up for dear life, of course as the boat was heeling it was running into the saloon area - I just didn't have enough hands, but used all our towels!! Just after about 12:20am the wind settled down and we could get some much needed sleep - we were exhausted! The autopilot handled it very well! Thanks George!
The funny thing was we didn't even know the system was coming... the problem is the weather in the south Pacific is very changeable and none of the weather sources are 100% accurate... I get forecasts from 5 or 6 sources - and they are about 90% accurate. There were 3 of us that got nailed – the other two apparently had 65 knots. When you're out there you can't run from it, you just trim the sails and make the boat comfortable (AND PRAY!). So, this has been our training run for the leg to New Zealand!
The wind dropped off the next day, and by noon on a very grey and rainy Thursday we found ourselves motoring towards our destination – ETA 4:30pm. A couple of hours later – like magic - the sea was sprouting palm trees – and there in the middle of nowhere was Palmerston.
… so, how could one more atoll be so memorable? Perhaps a lot of it has to do with the way the place was settled. In the early 1800's Palmerston was inhabited by Polynesians who were being actively "missionaried". In 1862 an Englishman of biblical proportions called William Marsters arrived along with his three wives. He went on to father 26 children and divided the island and reef into portions for each of the three families, prudently setting down rules protecting against intermarriage and providing for the distribution of property. Land was allocated by matrilineal progression within the family groups; private ownership of land was not recognized. There are also rules in place about who can marry who. A very different concept indeed!
PALMERSTON 6 – 18 September 18.03.46S; 163.09.43W
We'd been in SSB contact with Mike and Lynn (Wombat of Sydney) and as we were nearing, we switched to the VHF. Edward Marsters got wind of the fact that we were arriving that afternoon (with all their provisions that we'd bought in Huahine!) – and just after 3:30pm we saw him in a yellow rain jacket, accompanied by 2 others, coming out in his aluminium skiff to "claim us"! We exchanged friendly "hello's" and he assured us he'd assist us to our mooring as soon as the mainsail was down. On entering the mooring area, Mike also came out to assist Edward. Safely tied up – we got a very big smile and very nice "welcome to Palmerston, welcome to Paradise!" from Edward – who then told us to have a great evening, and that he'd be around with the officials in the morning to clear us in. As always, no matter what type of passage you have – there's always a great sense of satisfaction once you're safely at anchor – or on a mooring!
The (generally) prevailing Easterly trades combine with the big ground swell generated in the high latitudes of the Southern Ocean to kick up heavy surf over the reef. All this water flows the 4 miles through the lagoon, bringing nutrients and aeration, and exits in a race through the four passes on the leeward side of the atoll. This is where the mooring area & anchorage is – up on a coral ledge. The passes into the lagoon are very shallow and therefore most boats have to stay outside. So we were safe as long as the winds stayed between NNE and SSE.
Just after 9am the following morning Edward brought Jock from Health and Quarantine, and Alex from Customs and Immigration over to clear us in. The Cook Islands have a free association with New Zealand. It was just so strange to hear everyone speaking English again – we've had months of Spanish and then French! Palmerston has adopted parallel requirements for control of disease and agricultural pests, which also meant that we were to hold onto our garbage until we got to Niue. Palmerston also wants to become an official port of entry for New Zealand, so the officials carefully maintain correct paperwork – the interview was welcoming and filled with laughter. They told us that there'd already been 50 boats through Palmerston!
We took up Edward's offer of a ride ashore at around 11am to meet the family, then have lunch. There were 10 of us going ashore. Approaching their "motu" – it was just a mass of palms from one side to the other – you couldn't imagine there was a whole community living there!! The water was the most gorgeous blue – a nice contrast to the ultra white sand and green of thee palms. The walk to Edward's house was along a rambling sand pathway under coconut trees, Shirley (his wife), and Mama Tuaine (his mother) was there to welcome us. Outside under a huge tarp were 4 tables end to end, covered in a long flower patterned plastic tablecloth, and set for at least 20 people. To the right was the washing up area – all dishes were washed outside unless the heaven's opened offering torrential rain!
Palmerston's signature feature is its system of hosting visiting boats. When a sail is spotted or a VHF transmission is received, a man from three of the families will run to his skiff and motor out at his best speed to pick up the new arrival. First man there wins. Then, just as Edward did with Fast Forward, he will indicate a mooring. Currently Bob has 2 moorings; Cori has 1; Edward has 4. After formalities are concluded, the crew of that boat are guests of that host family.
Being hosted means the following: Every morning your host pops by the boat – sometimes for a chat and/or a coffee cause he's most likely been out since dawn fishing for your lunch! He would then ask when you'd like to go ashore – for ease of convenience, everyone usually went at the same time. The anchorage and the beach are about a mile apart, and the route varies from complicated to wild. Once you've landed, you are given the run of your hosts house and of the island. A typical morning might be spent beachcombing, snorkeling, chatting to the old folks, helping prepare lunch, helping out at the school, feeding the pigs and chickens… or whatever else takes your fancy!
At around 1pm, hosted crews receive lunch. Every day we were there, Shirley cooked up a storm and served 12 sailors and her 8 family members – with a smile on her face!! Normal fare would be a variety of freshly baked bread; rice; pasta salad (bearing in mind that the only veg that grows on the island is taro and breadfruit – nothing else!!!); fish (parrot fish, tuna, barracuda or wahoo) done in a variety of ways: fried, baked, smoked or BBQ'd; then there'd also be pork and/or chicken; or sometimes even lamb. Each day Edward or Simon (his elder brother) would say grace, and each morning Shirley prepared all these dishes for people who would soon sail west and never be seen again. These people were as sincere as they come.
The overwhelming reception of cruisers by the Marsters is not a seed that falls on stony ground, it would take a very callous yachtie to receive all this bounty and not reciprocate. Most of the boats – who had not heard before leaving "civilization" that the supply ship had been but not brought half the goods they urgently needed - went through their stores and gave away flour, rice, powdered milk, sugar, coffee, tinned goods and DVD's (tell you what, thanks to the yachties, these people are up to speed with THE latest movies!). I was very relieved to get rid of the 20 cans of corned beef and 12 cans of ham we'd been lugging round since leaving SA (!!), along with savoury biscuits, chocolate (treated as gold!!), magazines, razors for Edward, shampoo (Shirley nearly cried when she saw it – she's not had any for months) body lotion and hair accessories – these I shared between Shirley & Edward; and Paul & Sue (Edward's sister).
You are also more than welcome to volunteer your services ashore... like fixing broken appliances, generators, etc. Ken helped Simon make 10 roof trusses for a building next to the school; sorted out Shirley's sink; gave Edward and Paul arm extensions for their outboards (so no more sore shoulders!), and gave them various nuts, bolts and rivets from our supplies.
Simon was on board one day and happened to see me sewing… next thing I knew I was sewing a short sleeved, collared, button-up shirt for him. How do I get myself into these situations?! He did ask very nicely though!! How could I say no?! Anyway it turned out very well and he's absolutely thrilled!!! Sue and Shirley then wanted a pattern for this shirt – they have loads of material and two sewing machines, but no clue how to cut a pattern. As luck would have it, I happened to have a pattern on board, so I reinforced it and gave it to Sue, along with a very descriptive sewing book. Ken and I figured that we can always replace the stuff that we'd given/sold them as we were going to New Zealand. They weren't going anywhere and would be without for months and even years. Just before we left they wanted a shirt pattern for teenage boys – this was a bit more tricky as I am not a very skilled pattern cutter, but I did try and cut one off one of the boys' shirts. I did however mention to them that it would be a lot easier if they just unpicked the whole shirt!! We hope it worked out alright!!
With the exception of Sue and Paul, every family on the island has at least one family member working for the Government, which naturally guarantees a monthly salary in the kitty. Life on the island is not easy, there are no shops whatsoever - not even corner café to run to if you're out of sugar; internet costs $20 NZD for an hour; phone calls and sending faxes are not cheap; there is no television or radio either. There is an SSB, but this is only used in emergencies and to receive weather updates in the cyclone season. There are about 60 people on the island – 35 of whom are children. The school system is a "work at your own pace" system… not ideal as there is no great competition amongst the kids, and their skills are way behind other kids their age, this is mainly due to them not having computers to work with - but at least they are attending school! The supply ship normally comes every 3-4 months. The islanders place orders with friends and family members in Rarotonga who would then see to it that their agent got it on the ship. Family visiting in December from New Zealand usually come fully loaded – bearing not only gifts, but also food for themselves!! As for clothing, apart from family sending items and handouts from the yachties, there's a ship that comes by every 4 years selling clothes to the South Pacific islands.
I really took a liking to Edward's sister Sue and her husband Paul. They moved back to Palmerston in 2001 because her mum was ill. They desperately want to go back as they have 6 children and New Zealand clearly has a lot more to offer - but family obligations come first – perhaps it won't be too long a wait, but only time will tell. They make their living selling fish to a dealer in Rarotonga; Paul is very artistic and makes Polynesian drums from mahogany (amazingly the beautiful mahogany trees grow amongst the coconut trees!), as well as other trinkets. Sue is an expert weaver and she weaves the most beautiful and intricate hats, fans and bags.
When we were there, we commissioned her to weave a very plain hat for me using the "natural rito" instead of the boiled rito – the end result being a creamish coloured all-weather hat instead of a beautiful white hat only to be worn indoors (at church). Another advantage being that I could roll it up and simply slip it into a carrier bag! She made a beautiful white hat for Lynn too – complete with delicate flowers made from the scraps of rito. It takes her about a week to make hat – as mine was not to be too involved, it would take about 4 days. About 30 minutes after meeting her I just loved her – she was such a quite and gentle soul. I asked her when the next "rito making process" was going to take place, and she replied "tomorrow, do you want to come and look?" – I replied excitedly that I wouldn't miss it for the world, and that if she didn't mind, could I photograph and document the entire process for her, which I would then print out so that she could have something to show future clients. She was thrilled and confided that she was not very good at explaining the process to a lot of people. Fantastic! I felt so good – I love helping people!
Edward did not fetch me early the following morning as discussed and I was rather upset as I was sure I was missing out on the process!! When we were eventually taken ashore later on that day, I discovered that they realized something was wrong and so they waited for me! I must admit it is a huge process, the rito is stripped from the centre of the young palm leaves (the men and boys usually scale the young palms to do this); then using a sharp blade a thin but strong "ribbon" is stripped off this leaf – then it's cleaned, soaked and boiled. The final and very time consuming step – all the women (and whoever wants to lend a hand!) sit on a cloth on the ground, the wet rito safely in the middle (contact with sand is not good); then using previously dried strips (which are only about 30cm in length), the wet wet rito is then tied in little evenly spaced bundles of four to the dried strips, the strips are then tied together until a length of about 1,2m is reached. This "very revealing hoola skirt" is then carefully hung on the washline to dry. Once dry, the final product resembles a very thin straw as the sides have now curled in. The weaving process can now begin! After witnessing and partaking in this process I encouraged her to increase her prices – at least double them to $160, as I'd heard that they were being sold in Rarotonga for $300 - $500!!
Whilst "bonding with the girls'" during that process I also had the opportunity to enquire about the islands' customs and beliefs etc. Her mum then told me about the "feeding children". When a young married couple has a baby, it will then go to the one set of grandparents – who will name and raise the child as their own. When the next child is born, it goes to the other set of grandparents!! The couple only get to keep the third child!! A major event for boys is the hair-cutting ceremony – their hair is not cut from the day they are born until the age of 5. The long ponytail is then cut – and this signifies the end of their childhood. Nothing significant happens to the girls – at the age of 21 they are handed a silver key, and that's it!
While I was having a great time sitting in the shade and talking to Sue and her mum, poor Ken was slaving away in the midday sun!! His aim was to help Simon build ten roof trusses… after making a template first, the other nine were easy to knock together. I'd pop over every now and then as Sue's house was right next to the school and drop off water and sometimes a snack – take some pictures of their progress. We'd all then meet for lunch at Edward and Shirley's, help with the dishes, and then get back to our respective jobs… it was like a summer camp for adults!
After the day/afternoon ashore Edward would then ferry us all back at around 5:30-ish, most of us quite tired and dying for a shower! He would then go round to one of the boats for a drink and a chat (we normally gave him a rum), the kids would go to whichever boat took their fancy that day – if they were on board Fast Forward, I'd make them juice give them lollipops – and they'd browse through our DVD's and borrow whatever they fancied; sometimes the boys would fish off the back (but we never had any bait!!). At least we knew they would not stay long as they needed to head off back through the pass to their island before dark!!
Early the next week we'd heard that "the ship" was coming. The air was electric and the island was abuzz!! "The ship" was a 150ft schooner carrying paying crew of 32 18-25 year olds - each paying $100 (Canadian) a day for food; a bed in very confined quarters; and lots of work including helping with the sails; steering the boat; sanding down miles of wood; and other general boat maintenance. Crew can join the ship at any time and can stay from 1 month to 13 months (taking you back to Canada). Anyway, so they were coming to spend 3 nights at anchor. The group of 32 were then divided up and each family would then have between 2 and 4 guests per night. There was also going to be an "island party and BBQ" on the Saturday and we were all invited (by the mayor!!) to attend. Very nice!
Ken was very keen to go fishing with "a local" – and Paul was more than willing to take him out. Ben, on a boat called Gaia also joined them early on Friday morning. Paul said for them to be ready by 7am, but was already hovering outside the boat by 6:50am! Ken gulped down the last of his coffee and I handed him the rest of his toast to eat en route to wherever the fishing hotspot was. They returned 2 hours later with 2 fish – Ken caught a barracuda, and Ben caught quite a big wahoo. Ken had a really good time and learnt a lot: the best way to stop a mahi mahi from thrashing about on the deck is to hit it really hard just above the tail (this kills the nerves and stops it thrashing around). And they also learnt how to prepare a flying fish lure using a real flying fish – this lure is used to troll with and ideal for catching wahoo and tuna. Very handy tip indeed as we have loads of flying fish accidentally landing on the deck!
I was also lucky enough to celebrate my birthday in Palmerston. In our confusion on the Monday we got the dates all mixed up and thought the 15th was on the Friday (back at the ranch it was actually on Saturday!) – no sweat - Shirley took it upon herself to arrange a "birthday party" on the Friday (because of the "island party" on the Saturday). To be honest, I was just going to bring 2 batches of chocolate brownies ashore for everyone and not worry about a "celebration" at all!! But Shirley and Sue were insistent!! They went to SO much trouble, I was so touched!! There was loads fish (thanks Ken & Ben!), lamb chops (which apparently is only brought out on special occasions!), and pork all done on the BBQ. Shirley got the other yachties to make a salad each; and I brought the brownies. It was all finger-licking good!!! Sue baked a cake (complete with candles!) and Paul made delicious donuts. There were 30 people, most went back for seconds, and there was still loads of food left over!!! It was certainly a birthday to remember that's for sure!!! Then of course we had the island party on Saturday afternoon, complete with island dancing! It was a fantastic 2 days!
We knew we had to leave soon as time was marching on – and we also needed to rest!! We thought about leaving on the Sunday – but we still had so much to finish off! Sue's new booklet was just about finished – I had also photographed and printed all her finished products so at least she could also use that to give people ideas for hats etc. She was still finishing off my hat – Paul was making Ken a Polynesian drum too… they said that they'd bring everything round on the Monday afternoon and we could say our goodbyes (which I was dreading!). I also wanted to make a meal or two for the trip to Niue. AND I was still battling to burn a photo slideshow onto disc for them to view on the TV using the DVD player! I think a lot of yachties do this for them as they have no way of printing photos… 99% of the families don't even have a computer!!
Whilst there we never got to go snorkeling either – but I'm not too fussed as the wind was usually blowing hoolie in anycase! The island is humpback whale territory too… at about 10:30 one evening we were both down below – suddenly we heard this noise – I asked Ken if there were people outside, of course it was as black as ink out! He got the torch and shone it around, but could see nothing. Next thing Mike's on the VHF asking if we heard the whales – they were singing under the boat!!
Our last afternoon there was a very special one indeed – no sooner had I finished showering when I heard Ken shouting for me to come and look – there's a whale coming!!! Oh geez – panic stations! I rewrapped the towel – rushed up the stairs grabbing the camera en route – flicked it on, in a tizz of excitement I forgot the lens cap was still on (duh!). The whale was just slowly cruising behind all the boats heading directly for our boat!! I was also battling to see the LCD screen because of the glare off the water from the late afternoon sun - but I was just clicking away and hoping for the best. He passed so close next to us I thought at one stage he must've been blind! When I eventually calmed down I managed to get a really cool shot of his tail… which is another one of our "hard to beat" screensavers!
Shortly after this both families came on board to have "farewell drinks". Sue, Paul, Simon, Edward & Shirley said that they were going to come around early in the morning to see us off… simply prolonging the goodbyes!!! Suddenly the kids were screaming and shouting – in the distance was a school of fish being chased by school of tuna, a major feeding frenzy taking place, Edward, Paul and some of boys were off in their skiffs like greased lightning… they'd just left when a sailfish leapt of the water chasing the tuna chasing the others!! What a sight! Unfortunately they came back empty handed.
We called Edward just before 7am the following morning to say we were leaving within the hour… no problem – they were already hovering nearby as they'd all been out early to fish. I must admit it was very sad leaving and I did shed a few tears. The weather looked a bit grim as it was overcast and gray, but we had to leave.
We had an absolutely amazing time and are keeping in touch with Sue and Paul via e-mail. Who knows when our paths will cross again…
Diary Photos
3rd Sep 2007 The start of the trough we were caught up in...
---
3rd Sep 2007 Fun and games...
---
3rd Sep 2007 Our poor delaminating main sail we'll patch up and keep nursing until New Zealand
---
---
4th Sep 2007 The welcoming committee - Edward (red); the Immigration office (at bow); and Dave - a singlehander
---
5th Sep 2007 En route to Edward and Shirley's house
---
5th Sep 2007 Just part of the spred they put on for us...
---
7th Sep 2007 Just one of at least a hundred little piglets!
---
7th Sep 2007 What a porker!
---
8th Sep 2007 From Edward's house to Sue and Paul's
---
9th Sep 2007 Edward playing his ukelele
---
9th Sep 2007 All the yachts tucked safely behind the coral reef
---
---
11th Sep 2007 Chicken anyone?
---
11th Sep 2007 Edward taking his "family" back to their boats
---
11th Sep 2007 Mama Tuahine... Edward and Sue's mother in her Sunday best
---
12th Sep 2007 What a sight!
---
12th Sep 2007 Edward's house
---
13th Sep 2007 Sue - weaving a bag on her woven mat
No Description
---
13th Sep 2007 Edward & Shirley's kitchen - our lobster feast
No Description
---
13th Sep 2007 Sue weaving a fan
---
13th Sep 2007 Paul and his huge sailfish!
---
13th Sep 2007 Paul's huge sailfish... was very tasty!
---
13th Sep 2007 Ken and Ben out fishing with Paul...
---
14th Sep 2007 Currently Norway's smallest yacht braving the South Pacific - only 22ft!
No Description
---
14th Sep 2007 Gorgeous little Ann modelling her mum's crafts
No Description
---
14th Sep 2007 Simon proudly modelling his newly made shirt!
No Description
---
14th Sep 2007 The VERY competitive island volleyball team!
---
14th Sep 2007 Ken with Ben's wahoo
No Description
---
14th Sep 2007 Ken, Dave and Odin helping Simon with the school building
---
15th Sep 2007 Paul making donuts (for my birthday!!)
---
15th Sep 2007 My birthday party!! It was fantastic! Great cake Sue!!
---
15th Sep 2007 My impressive birthday spread...
---
15th Sep 2007 Marion doing some island dancing for us
---
15th Sep 2007 Edward, Shirley, Simon and Family
No Description
---
15th Sep 2007 Paul, Sue and family
No Description
---
16th Sep 2007 Humpback whale tail
---
16th Sep 2007 The hat that Sue weaved for me... Paul made the flowers (which can slip on and off!)
---
17th Sep 2007 Paul and Sue with some of their beautifully crafted wares.
---