sailingfastforward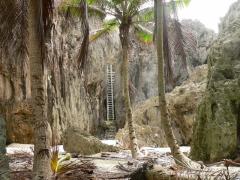 19th Sep 2007 - 30th Sep 2007
NIUE
18 – 21 September
We arrived in Niue at 4:05am cold and tired and - minus the engine. The water pump that cools the water to the engine decided it was time to go to heaven. Great. It packed up the previous morning - and we'd only been motoring for about 5 hours. So up went the Code 0 in 4-6 knots of wind – our ETA was drastically "rescheduled" by 12 hours! Luckily we were managing to do between 3 and 4.5 knots (not bad considering there was hardly any wind). A couple of years ago Ken had a bracket made for the dinghy outboard motor which would slip into holes on the transom – enabling us, in an emergency, to power us forward and have some maneuverability. This was fitted and tested in the daylight – and it appeared to work like a charm.
The weather was very iffy and we were approaching the island on the windward side – at one stage we were caught between two squalls and the wind kept changing direction! After at least an hour of indecision (thankfully not ours!) we were slowly headed for the northern end – in fact we were rather lucky because we were able to hold that same tack all the way round to outside the anchorage… where, at 2am we were greeted by a humpback whale about 10m off the starboard bow!
We managed to do about 1 - 1.5 knots with the outboard, I was quite pleased that the wind was not howling, otherwise we would've had a real problem. I was standing on the bow with a spotlight and as we neared the buoyed area I frantically shone it round looking for a free one, as we'd have little time for error! Luckily Mike had told us that there were two rows – so it was then pretty easy to visualize the setup in the limited light we had. Suddenly just to our right I spotted a free buoy, and thankfully there were no boats to the right of it – realistically we'd only have one shot at picking it up as our maneuverability was very limited… ooh the pressure!! Ken had put the bow-thruster down, but I could not hear the beeping from up front – and little did I know that it too had cutout and he could not get it to go back up!!! It always happens in three's… two down, one to go!
Anyway, I picked up the line – easy peasy, what was I worried about?! – Ken then came forward to sort out the lines – which we were then hoping would not get tangled around the bow-thruster, but of course did!!! Presumably, this is number 3! So there we were at 3:05am trying in vain to untangle lines from the bow-thruster with a boat hook!! At 3:30 we realized we had no chance. I suggested we just put the dinghy in the water and that Ken (poor Ken!!!) get in the water and untangle the ropes. Or is this number 3?! He was horrified – I mean no one wants to go swimming in 40 meters of water - exposed to the open sea - at 4 in the morning!!! But we had no choice as we did not want the bow-thruster to get damaged as the boat pulled back on the lines. So in he went, but he was very quick!! He said that we'd never in a million years have managed to untangle it from the deck. Go Kenny!
We eventually plopped into bed after nice warm showers at 5:30am!!
* A bit of history for you…
Niue is 264 square km and is one of the world's smallest self-governing states (in free association with New Zealand). The name comes from niu (coconut tree) and e (behold) and is pronounced NEW-WAY. This little known island boasts some of the finest and very unique coastal limestone crevices and chasms in the South Pacific, all open to visitors and freely accessible.
Niue is also one of the largest uplifted coral islands in the world. The island is an elevated atoll shaped like a two-tiered wedding cake with two terraces rising from the sea. The lower terrace rises sharply, creating the 20 meter coastal cliffs that virtually surround the island. Inland, a second terrace rises abruptly from this coastal belt to the central plateau some 60 meters above the ocean. According to some university professor, the uplifting continues in a half a million years from now Niue will be 50-70 meters higher than it is today!
A fringing reef borders much of the coast, but in places the ocean breakers smash directly into precipitous cliffs. Faulting during the island's uplifting has created the chasms and crevices that are Niue's greatest attractions. Water dripping from their ceilings has added a touch of the surreal in the form of stalactites and stalagmites.
Niue was colonized by Samoans and then Tongans. The present Niuean language is related to both. Captain Cook made three lands in 1774, but he got a hostile reception from warriors with red-painted teeth!! He called it Savage Island (as opposed to the Friendly Islands, Tonga), a name still heard from time to time. Then followed a period when missionaries arrived trying to convert the islanders to Christianity. Much of the early hostility to foreigners was motivated by a very real fear of European diseases. The islanders' reputation for ferocity had always kept the whalers away, but then in the 1860's came the Peruvians and Bully Hayes, who was able to entice Niuean men to leave their island voluntarily to mine phosphate for years at a time on distant Madden Island. Finally in 1900, Niue was taken over by the UK and a year later transferred to New Zealand.
And a bit on the economy - in case you're interested…
Niue is totally dependent on official aid from New Zealand – which supplies ¾ of the local budget. Overseas aid totals about NZ$8 million a year, or NZ$5750 per capita, one of the highest levels in the South Pacific. Many government services are free and about ½ the residents work for the government. Imports are 13 times higher than exports, an imbalance only exceeded in the French colonies. Tourism, the sale of postage stamps and limited royalties from overseas fishing companies help balance the island's cash flow. In 1996 the NZ government spent NZ$10 million extending the airport runway and building the Matavai Resort in the hope of promoting tourism. Even so, the hotels stand empty for most of the year and 2/3 of the "tourists" are relatives of the islanders! Hurricanes have destroyed coconut plantations, bringing to an end the processing of coconut cream; as well as lime and passion fruit plantations. Droughts have also taken their toll. Farmers are now turning to organic produce to serve the lucrative natural foods markets in NZ. Efforts are being made to make Niue the first pesticide-free, entirely organic country in the world by 2010.
21– 30 September
19.03.45S / 169.51.33W
What a beautiful sight the island was on that Friday morning, even though it was slightly overcast. Getting the dinghy ashore was an adventure, but no real problem. As there is no dinghy dock it needs to be lifted out onto the wharf by crane! I would jump out at the steps up to the wharf and get the cart in position and the crane hook down for Ken to attach the dinghy's harness to – Ken and the dinghy were then hoisted out of the water – and then lowered onto the small cart on the concrete wharf. Ken would then move the dinghy to the "parking lot" and we'd get the dinghy off the cart for others to use. You obviously reverse the procedure to return to sea. A very unique but very efficient system!
Once ashore, we made our way to the officials to clear in – a breeze as usual! We then went to - and are now members of - Niue Yacht Club, which is not only the smallest yacht club in the world but not one of the committee members own a yacht!! They have better than 1200 members from around the world! I think Keith and Jim owns the yacht club, and Ernie answers the VHF enquiries, checks the buoys, etc. Jim's wife, Mamata owned Mamata's Ice Cream Heaven (conveniently located right next to the yacht club!) – she sold toasties, burgers, panini's, cakes, coffees, etc – and the best ice cream in the southern hemisphere (that's our opinion anyway!!). We're very pleased that we are able to get this ice cream in New Zealand as well!
A group of us went to Jenna's that night for fish and chips – another very good meal that did not break the bank. She was not licensed, but very kindly sent her son out to buy a case of beer for us! Apparently 2 humpback whales and their calf were in the anchorage earlier on in the week and most of the yachties got to spend 2,5 hours swimming with them!!! Wow, that must've been absolutely awesome!!!
We went off to a "cultural festival" at the local high school the following morning – there is no public transport on the island, but thumbing a lift is a good way to get around and meet the locals! We did arrive at the festival a bit late, but what we saw did not blow us away. A bit disappointing indeed. We thumbed a lift from an elderly couple who were from another village, said that they too were disappointed as the proceedings were very slow and it paled in comparison to their village festival.
We then headed straight to an ex-New Zealander called Terry who helped Ken strip the water pump. We discovered that not only did it need new bearings, but also a new seal. Terry had the bearings, but said that he'd try and locate a kit in NZ. There is only one flight a week – and if the plane is full a lot of stuff usually gets left behind. So worst case scenario we'd be waiting there for 2 weeks. Oh well, we had no choice – and we could think of worse places to be stuck in!
There was another major event taking place on the island that weekend – the traditional haircutting ceremony for boys; when the long tail of hair he has kept since a child is removed. Guests invited to the concurrent feast contribute hundreds of dollars to a fund that goes to the boy after the celebration expenses have been paid. For girls there's a similar ear-piercing ceremony. The gatherings are usually held on a Saturday in private homes – and you may very well be invited to attend if you know a family member. Unfortunately we did not attend this special ceremony.
On Sunday, together with the Dutch couple off "Chulugi"; and New Zealander Tony, off "Checkmate", we decided to try out the Washaway Café, which is only open on Sundays' from 11am til late. We set off around 4pm – not really knowing exactly how far it was either! We tried thumbing lifts (whilst covering ground on foot of course!) for more than half an hour – but to no avail! Tony complained about having a bad knee and opted to wait on the corner – the four of us continued on up the hill (probably the only hill in Niue!). After at least another 20 minutes a truck stopped and we jumped in the back – very thankful indeed!! It turned out to be a very long ride to the pub – at least 20 kms. This kind gentleman dropped us off right outside the pub even though it was out of his way!! These people are just so nice! We were halfway through our drinks and feeling rather guilty about Tony – hoping that'd he'd get a lift eventually, when suddenly a car pulled in… and there he was! The guy who gave him a lift was from a car rental place – three Chilean yachties had hired a car and had managed to get 2 flat tyres! We ended up having delicious burgers – complete with beetroot and an egg – typical New Zealand style! Marlene and I were a bit worried about a lift back as it was now dark. The Chilean yachties were still there and perhaps we could come to some arrangement. After we'd finished our meal the car rental guy came over and asked us if we'd like a lift back into town… what luck - certainly an offer we could not refuse!!!
We braved the start of the SW swell and managed to get shore on Tuesday only to be greeted by Ernie who had just been trying to hail us on the VHF to tell us that the water pump was ready to be picked up. I was confused but did not act blonde. How could it be ready when the plane was only flying in on Friday? We gladly accepted the lift and Ernie dropped me off at the internet café en route to Terry's. As luck would have it, Terry was scrounging around his yard and stumbled upon a water pump that had the exact parts we needed!! Ken paid the $125 (a bargain!) and we celebrated with yet another two scoops of ice cream, before returning to the boat to fit the pump.
The weather forecast predicted NW winds and a SW swell. This was not good, as the anchorage was only protected in NE and SE winds. We were going to be on a lee shore, but apparently it was not a problem as the buoys were very strong and have been regularly maintained. At least the engine was working again! Luckily the wind was not very strong, but the swell was rolling in and we could not get ashore on Wednesday as the rollers were crashing over the concrete dock! All in all it was not absolutely unbearable – I suppose having a bigger boat does make a difference!
On Monday we'd hired a motorbike for two days to do some exploring on the island, but after 2 days of almost constant rain – we decided that perhaps a car was a better option. After packing a lunch and the stuff we'd be needing for the days adventure, we braved the swell on the Thursday morning, which by now was a lot smaller, but we now had high tide to contend with!! We thumbed a lift to the car rental place, who gladly exchanged the bike for the car. We'd paid $10 (Niuean) for my drivers license as I was going to be driving us around. It felt very strange driving a car again – not to mention an automatic! So off we went – map in hand.
Our intentions were to try and see as much as possible, if not everything, in two days. Map in hand, we started off up the eastern shore – unfortunately it was not a coastal road and to see any of coastline meant turning off the main road at signs marked "sea tracks" – which then wound through the bush towards the coast. A real adventure in our little Toyota Sunny! In our rush to leave the boat early that morning we'd stupidly forgotten to take water!!! A first I might add – I always have a bottle with me. It was most annoying as thus far there'd been NO shops along the way either!! Our first stop took us an impressive limestone arch; the next was a stop afforded us spectacular views of the coastline featuring lots of impressive chasms.
The Togo Chasm walk was next on the list. We walked for about 15 mins through the Hubalu Forest which was rather unusual as the trees were vying for space amongst the large coral mounds - real evidence that Niue is a raised atoll!! Once out of the "forest" we were treated to the most spectacular and visually unusual "landscape" – the escarpment, for as far as we could see was a mass of grey coral pinnacles. As we were continuing down the series of concrete steps we were walking between ginormous rocks, the path curved to the right and there were another set of steps – this time a sturdy wooden ladder which took you down into an oasis of sheer coral walls and coconut palms… it was like being on a film set for a "lost world" movie! Unbelievable.
Once back at the car the sun was out and we were thirsty!! We decided that since it was lunchtime we should hit a left at the next intersection and head the 15kms back into town, as we knew we'd be able to buy refreshments there. Mysteriously the car ended up at the yacht club and we found ourselves – once again – savouring an ice cream each! We figured we'd burn it off on the next walk.
Vaikona Chasm was not on the tourist map – but was in our Moon Handbook of the South Pacific. The 4km walk through the forest was rather challenging and seemed to take forever as it was essential we kept our eyes on the ground – the last thing we needed was to trip and fall over a tree root and onto the very sharp limestone. The path through the forest was not very clear either as there were a lot of fallen leaves, but, reassuringly, every so often we spotted a red arrow strapped to a tree. We eventually found the cave – which is said to be spectacular - once inside, you swim through two pools and there are black carp and tiny freshwater crayfish to be seen. I was a bit nervous about entering it as it seemed to be rather steep and slippery. The guide said there'd be an orange rope, but this was nowhere to be seen - and what if we couldn't get out? I said to Ken that he was welcome to give it a shot – if something happened I could always gnaw off a tarzan rope and help him out! We thought it was not a good idea and decided to head further along the path towards the sea. At least we were afforded with a spectacular table-top type reef ledge at the bottom – a good photo opportunity! I was being super careful on the super sharp limestone – not only was I worried of falling on it, but falling over the edge!! I shouldn't try so hard… the front of my shoe caught on a piece of limestone that was jutting out slightly and before I new what was happening I had puncture marks down my shin!! OUCH! They immediately swelled up and oozed blood. Charming I know. I knew I would not really run the risk of an infection as it was not underwater coral (which is deadly). I consoled myself by saying it could be a lot worse – like not being able to walk and needing stitches.
So off we traipsed back through the forest only to find that somehow along the path we'd missed an arrow and done a full circle. Ken immediately recognized the familiar spot as I'd taken photos of huge coconut crabs only 10 minutes before. Oh no. I had visions of us climbing a tree and spending a very long night huddled together on a branch fighting off coconut crabs and mozzies – and who knew what else!! We were so far from the main road and there were hardly any cars anyway - so we couldn't even use traffic noise to get a sense of direction. It was 3:30 – we had 3 hours of daylight left. There was still hope, but it was still quite a scary thought!! I eventually spotted a red arrow and we carefully scrambled across mounds of limestone to get to it. Again we followed that arrow – slowly this time – suddenly Ken looks up and there was a tiny red arrow pointing UP!!! We'd missed the limestone steps going up! How silly of them not to put the arrow lower down!!! Phew! That was lucky! After another 30 mins we came across 2 couples (we knew the one couple) and a guide – that was obviously the key!!!! Apparently a guide is essential… we'd later heard that someone had managed to get lost for 3 days in that forest!! Perhaps that's why it's not marked on the tourist map anymore.
Back at the car we were rather knackered! This is the most exercise we'd had for ages!! At least I could rinse my wound! We decided to call it day as it was nearing 4pm – and drove back to town via the north coast road. In several of the small villages, there are monuments to locals who served in WWI. We noticed a lot of abandoned houses and ghost towns along the way - apparently many islanders (approx 80%) have left the island for better prospects in New Zealand. There are only about 1400 people left on the island – another 20 000 live in New Zealand (all Niueans are NZ citizens) – and sadly more and more people leave "the Rock" very year for New Zealand.
All land is also held by families – we noticed too that there are many roadside graves. This is apparently also a way to hold onto land.
The Yacht Club was having their weekly BBQ that evening and it seemed like a great way to end the day - with 12 other yachties.The food was excellent to say the least – we had wahoo, barracuda, sausages, bread, green salad and oven cooked "chips" made from potato, taro, pumpkin and boiling bananas (which taste like peanuts!).
We slept like babies that night and weren't awake as early as we expected to be – eventually setting off at around 9am! We stopped and enjoyed another homemade lunch at Limu, here we trekked down to two beautiful pools that had formed inside the reef. They were supposed to be very good for snorkeling, but we chose not to snorkel. I blamed the leg and I simply did not have the energy I had the previous day! The highlights of the day were undoubtedly the two caves: Vaihakea Cave and Palaha Cave which featured the most amazing stalactites and stalagmites.
So, with the engine fixed and the island explored we decided that we should leave on Sunday – there was still time to clear out so we rushed back to the boat to get our documents, then rushed back and cleared out. Once that was sorted out – we once again found ourselves with ice creams wedged firmly in the palms of our hands!
Saturday was spent getting the boat ready for the short leg to Tonga – it was to be a 2 nighter and the winds predicted were to be less than 20 knots. We had our last meal ashore at the Indian restaurant – we'd heard it wasn't bad, and that there was "a lot of meat". Great! So off we went – mysteriously finding ourselves having desert at Mamata's before the curry! Needless to say my appetite then went to the dogs and I ended up taking most of my meal home! I must admit that what we'd heard was correct – in fact – there was ONLY meat, no veg at all! The beef gave your face a real workout – thank goodness Ken and I decided to share – the chicken was really good!
We set off at 2pm on Sunday afternoon in 25 knots of wind. Soon Niue looked just like a pancake on the horizon. An interesting, fascinating and very enjoyable pancake!
Diary Photos
28th Sep 2007 The "lost world"...
---
28th Sep 2007 The dingy hoisting system
---
29th Sep 2007 The Washaway Cafe
No Description
---
29th Sep 2007 Niue's unusual coastline
No Description
---
29th Sep 2007 The "lost world"...
No Description
---
29th Sep 2007 Niue "anchorage"
No Description
---