Harry and Judy's RV Trip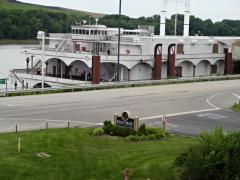 8th Jun 2015 - Summer 2015
Day 8-June 8, 2015-Harry's Birthday, Casino and Bourbon
Day 8-June 8, 2015-Harry's Birthday, Casino and the Urban Bourbon Trail
Rained all last night but turned out to be a nice day-overcast but warm-about 77. There's a train track right behind the campground and the trains run 'til about 11:30-thankfully they stop after that.
IT'S HARRY'S 70TH BIRTHDAY TODAY.
We got a late start this morning and drove through historic Clarksville, IN past mansions on the river-some have been kept up, some not. Got to Horseshoe Southern Indiana Casino in Elizabeth, IN about noon. It's owned by Caesar's Palace and is a riverboat on the Ohio River-4 levels of gambling, restaurants, Envy Lounge and shops. Very elegant place, much more than I expected. Lots of walking to get onto the boat, up escalators, down escalators, then up again. The slots were fun, over 1800 of them and we won some and lost some, ending up about $13 ahead when we left. One of the crew sang and danced for Harry singing "Happy Birthday from the Horseshoe Crew"-really friendly bunch of employees.
We're still a bit confused about what time zone we're in-Harry's watch and cell phone are an hour different but it really doesn't matter because we don't have to be anywhere at a specific time.
Drove back into Louisville to go on some of the Urban Bourbon Trail-about twenty bars and lounges in downtown Louisville with bourbon tastings. There's an area right in the middle of town called "Fourth St. Live" on, what else, 4th St., that is closed to traffic and has lots of restaurants, bars, some shops and live entertainment on given nights. We ended up at Maker's Mark Bourbon House and Lounge. Had a flight at the bar-there were 90 bourbons to pick from. Some traditional, some high rye, low rye, wheat, oh my! You didn't just say "I'd like a bourbon". And lots of specialty mixed drinks made with bourbon. I couldn't decide so I had wine. If it was your birthday month you were entitled to a free entrée so we stayed for dinner. Harry had a great rib eye and I had salmon. If you know Harry you know he'd rather have ice cream than birthday cake so we walked down the street to the Fudgery-a place that had homemade fudge and ice cream. Their 2 scoops was more like a pint. Back to the RV to pack up-we're leaving tomorrow. The GPS still gets us lost on the way back to the campground, we find ourselves on closed roads and have to find an alternate way back.
We both enjoyed Louisville more than we thought. There are still a lot of places we'd like to see here but maybe another time.
Diary Photos
---