Harry and Judy's RV Trip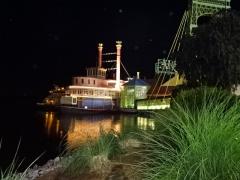 9th Jun 2015 - Summer 2015
Day 9-June 9, 2015-To St. Louis, MO
Drove 273 miles in 5-3/4 hrs. Hot-got up to 91.
We got up not knowing if we were going to go north up I-65 toward Chicago or west on I-64 to St. Louis. St. Louis won at the last minute. Nice drive through southern Indiana and Illinois-some traffic but not bad. We wanted to get off the interstate for a while and travel a local road but as soon as we got off there was a sign saying the road was closed in four miles. So we backed up, drove on a local road for about a mile and got right back on the interstate. Passed corn and wheat fields, many of them flooded, probably from heavy rains or the murky, muddy rivers.
The KOA campground is actually in Granite City, IL, about 10 miles from downtown St. Louis. It's on Historic Route 66 and much nicer than the previous KOA even though it's near a big city. Hard to find campgrounds near cities but I knew that from living near New York. We're in the shade, nice site, near the office and the pool. Great, quick wifi-the movies I've been trying to load for days loaded in a matter of seconds. And we're sure we're in Central Time Zone.
There are two casinos in St. Louis but there was another advertised in the campground brochure that was in Illinois about 15 minutes away so we decided to try our luck there instead of going into St. Louis. It was Argosy Casino in Alton, IL, a riverboat on the Mississippi, which is really yucky. The river that is. And it's at flood level, very high! The casino was nice, non-smoking, had new slot machines and a few gaming tables. I think there were more decks but we only stayed on the one we came in on. After playing for about 2 hours Harry came away $23.00 ahead and I won 22 cents. And we had a good time.
Diary Photos
9th Jun 2015 Argosy Riverboat and Casino
No Description
---