Harry and Judy's RV Trip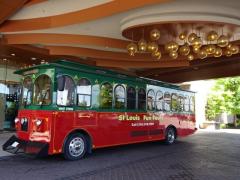 10th Jun 2015 - Summer 2015
Day 10-June 10, 2015-St. Louis, MO
HOT!!! Hit 100 by 11:00. Glad we live in Florida where it's cooler.
We decided to take a trolley tour of the city which departed from Lumiere Hotel and Casino in town. It was only a 15 minute ride from the campground to the hotel. The trolley took us through the city and then the outskirts-lots to see in St. Louis. There's a zoo (the second best in the country), a botanical garden, Chuck Berry statue, Science Center, Planetarium, Union Station, Anheuser Busch plant, St. Louis University, museums, theaters, art galleries, churches and so much more. And most of it is free-even the parking in town is free. A free shuttle takes you to some of the attractions. The city prides itself on having so many free attractions. We drove up to Forest Park where the 1904 Worlds Fair took place. Lots of parks up here, a magnificent statue of St. Louis overlooking a lake, a stainless steel tree named "Placebo", museums and outdoor arenas. They were setting up for a music festival this weekend. Again we miss it by a few days. We saw the Rams football field and Cardinals Stadium-there have been three stadiums for the Cardinals over the years. They're not playing in town 'til the weekend but this is definitely a baseball town-Cardinals are present all over and every TV has the game televised. And, of course, the Gateway Arch, the tallest man-made monument in the US, which symbolizes the westward expansion of the US. It stands 630' and is visible wherever you go in the city and for miles in every direction. Stopped for lunch at Pappy's Smokehouse, famous for ribs. And they were delicious. We then went to The Hill, an Italian neighborhood where even the fire hydrants are painted in the colors of the Italian flag. Italian restaurants and pastry shops are all over (good thing we're full from Pappy's ribs). Yogi Berra and Joe Garagiola grew up in this neighborhood and there is park named for Yogi.
We had planned on going to a River City Rascals baseball game but it was still over 100 degrees and too hot. It was too late to go on the Anheuser-Busch Plant tour. But, oh my, there's the Lumiere Casino which gave us free money to play with. We quickly lost that and our $20. Missouri laws state that casinos have to be on water. The original riverboat casino on the Mississippi River was destroyed. So they built the Lumiere in the same area and pump water from the river under the casino which now sits in 1/8" deep water. Drove through Lacledes Landing, the only original area of St. Louis from Lewis and Clark times. The cobblestone streets nearly jolted the fillings from our teeth.
Then back to the campground where there's a nice breeze. I went in the pool which was GREAT and Harry read.
Diary Photos
---