Harry and Judy's RV Trip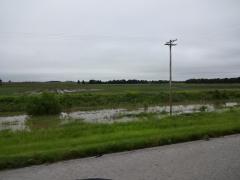 12th Jun 2015 - Summer 2015
Day 12-June 12, 2015-Where to next???
Day 12-June 12, 2015-Where to go next???
Drove 192 miles in 3-3/4 hours. Cloudy all day, rain off and on, never got above 65.
The storm last night didn't amount to much-thunder, lightning, rain for about 20 minutes.
Well, the original plan was to go to Omaha, NE today. The World Series of College Baseball is starting there tomorrow and we thought we could get to see a game or two. But there's not a campsite to be had anywhere near Omaha because of these games. So we again have to change our itinerary. We're just about smack dab in the middle of the US so we can go in any direction. We like highway 36 so we decided to keep going west for a while.
Highway 36 in Missouri has its own share of Americana. The motto here is "Missouri Highway 36-The Way of American Genius". Macon is the home of dial telephone, Marceline is the boyhood home of Walt & Roy Disney. A few miles west in Laclede, Gen. John J. Pershing lived, in 1928 in Chillicothe sliced bread was invented, Hamilton is the home of J. C. Penney (and the largest selection of pre-cut quilt fabrics in the world). And St. Joseph, the farthest west city in Missouri, is the home of Walter Cronkite, Jessie James and the Pony Express. And there's a museum for each one of them.
And then there's Kansas. Most of the drive today was through Kansas, where Highway 36 is called The Pony Express Highway and goes down to one lane each way. Still 65 MPH and still a nice road, not much to see except farms and ranches. The streams are muddy and swollen and the fields are flooded. We found out that most farmers have not planted their crops yet because of the rain. It's been raining all year and in May alone it rained 27 of the 31 days. The sky is black and heavy and angry looking.
The one and only campground on this route for miles is in Seneca, KS. We got here very early-1:30, because the next campground is over 200 miles away. Took advantage of getting in early and found a Ford dealer for an oil change. We have no cell phone service here so while we were at the Ford dealer I used their phone to call ahead to the next campground for tomorrow night. It's the only one on this road up ahead and there was one site left so I reserved it.
The campground we're in tonight is in back of a hotel but it's on a nice little pond that has a 4' grass carp swimming around in it. Fishing is allowed but the people I spoke to told me this fish was too big for their lines and no good to eat anyway so he just swims around and around. They have a rec hall, laundry, meeting room and storm shelter. I peeked in to see what it was like and hope I never see one again.
Diary Photos
---