Harry and Judy's RV Trip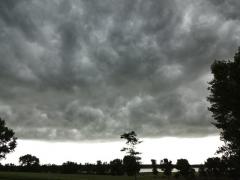 14th Jun 2015 - Summer 2015
Day 14-June 14, 2015-Kansas Day 2
Day 14-June 14, 2015-Kansas Day 2
Started the day with two Kansas rangers knocking on our door telling us we didn't pay some kind of fee to enter the park. Turns out when we checked in they forgot to charge us the daily fee. So we paid it and talked with them for a while. They said they spotted two bald eagles down by the water this morning and told us how to find the black widow spiders in the prairie dog holes. Also told us to be careful of the rattlesnakes that live there. Guess we've seen enough of the prairie dogs close up.
Not a busy day today. We looked at the maps and campground books again and changed our minds a few times about where to go next. We made a plan for the next couple of days. Harry secured the bikes again and I made some reservations. We haven't had cell phone service for a few days and it's still spotty but I managed to make a few phone calls.
We went for a short bike ride around the park listening to the birds sitting on the wires and in the meadows serenading us. I think the meadowlarks are the ones with the beautiful songs. We managed to get back just as the wind picked up, the sky turned black with heavy clouds and the thunder started to rumble. The temperature really dropped fast and then the pouring rain came down for a few hours. After one thunderous clap it all stopped and the sky started to clear. The birds started singing again and all was well. And then we had the most incredible double rainbow where we could see both sides. I felt like Dorothy in "The Wizard of Oz" and almost broke out into "Over the Rainbow"…almost.
Diary Photos
Diary Movies
---