Harry and Judy's RV Trip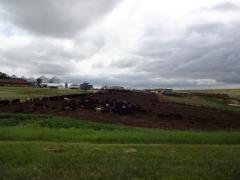 15th Jun 2015 - Summer 2015
Day 15-June 15, 2015-Nebraska
Day 15-June 15, 2015-Nebraska
Drove 197 miles in 5 hours. Gained an hour when we got into Mountain Time Zone in Nebraska.
It poured again last night and was really cool in the morning but warmed up to about 75 when the sun came out. I played mosquito slayer most of the trip, we had some in the truck who refused to leave peacefully-they're dead now!
We continued on Highway 36 to Oberlin, KS where we went north on 83 to I-80 in North Platte, NE. Cattle and horse ranches, some corn fields and surprisingly hilly terrain for the Plains. The smell from the cattle farms is horrible. I guess you'd get used to it if you lived here. North Platte is home to Buffalo Bill and it's now a built up city with every store you can imagine and a Buffalo Bill Cody home tour and museum. We opted to go to Walmart to do some stocking up on groceries, ate lunch in their parking lot and then continued west to Big Springs, NE. We heard there was a bird flu scare at some farms in NE and a million chickens were infected and chicken and egg prices were going to rise drastically. As soon as we turned west the land got flat and wet. I think it's wetter here than Missouri or Kansas. Trees along the road were in standing water. The owner of the campground told us it's been raining since April, they just got their last crop of corn in last week, which was really late, and of their 2800 acres, 600 acres were in a lagoon and couldn't be planted. He said both the S. Platte River and the N. Platte River were at flood level and it got worse when they merged with the Platte River.
We got to the campground at 2:30-early because of the time change. It has a cattle farm behind it and some chickens, I don't know if it's theirs or not. We're about 2 miles north of the Colorado border. Got settled, didn't unhook-we're only here one night-Harry checked the tire pressure and we put some laundry in. Caught up on some e-mails and researched some more places to go-we haven't had wi-fi or cell phone service for a few days and can't rely on having it again for a while so I'm taking advantage of it while I can. Had a hard time getting on line and Harry still can't connect. I remember the days when we went camping to get away from the cell phone and now it's hard to manage without it. Ah, technology. At 8:30 it's almost dark, we're only 70 miles into Mountain Time.
Diary Photos
---