Harry and Judy's RV Trip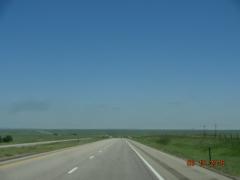 18th Jun 2015 - Summer 2015
Day 18-June 18, 2015-Casper, WY
Day 18-June 18, 2015-To Casper, WY
Drove 191 miles in 3-1/2 hours. Sunny, 85.
Wide. Open. Spaces. Wyoming! I-25 North is a nice road to travel, not much travel, nice scenery. Mostly plains scattered with black cows, every now and then a ranch with some brown cows and horses. Saw a few antelope grazing on the plains. Speed limit is 80 which wasn't fast enough for one car that flew past us only to be stopped by a state cop up the road. And an idiot guy on a motorcycle tried to get between us and a motor home and nearly cut us both off. But, other than that, a nice ride. Pretty, fragrant wildflowers on the side of the road and every now and then a huge silhouette on a hill overlooking the interstate-sometimes a cowboy, a jackalope, a dinosaur. And coal trains, going north, south, east and west. Some of them have over 100 cars loaded with coal.
As we turned west at Chugwater the landscape started to change and we saw outcroppings of rock and more sagebrush and some trees. We're now in the foothills of the mountains and following the North Platte River, which doesn't seem as flooded as its sister the South Platte River was. We followed the river all the way to Casper, known historically for where the Oregon, Mormon, Pony Express and California Trails all converged. Now it's a big oil producer and we noticed lots of oil wells along the roads, along with cattle farms. We're staying at the Fort Caspar Campground, (the original spelling with the a instead of the e). We stayed here a few years ago and went to see the 5-6' ruts made by the wagon wheels going west in the 1880's. This year we drove through the town and the outlying suburbs. The town seems spread out with little neighborhoods all over. We noticed a lot of dead shrubs and trees in front yards and were told it was probably from a dry spell or the extremely cold winters. Almost every yard had dead bushes. Drove into town and found the Wonder Bar Brewery, making craft beer in the basement. Stopped in for a taste, then back to camp and cleaned the kitchen and bathroom. They look a little better now. Read for a while before dinner, then took a walk around the campground after dinner. We're on the road again tomorrow.
Diary Photos
---