Sailng on Windwanderer.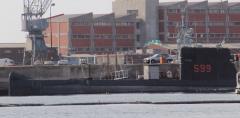 16th Jun 2015
Tuesday 16th June 2014
Tuesday 16th June 2015
It's 6.30am and I sitting here holding on for grim death, and yeap we are tied up still I hope on the mooring.
Its wild out here we have rain and winds gusting over 50knts way over gale force. This is crazy we may as well be out in the middle of the ocean, we are getting pushed way over on our side things are flying everywhere, not only are the coastlines of South Africa wild, it seems the bays are not much better.
I honestly thought that we would be fine in here, we are tucked up in a little corner of the bay, mountains all around us but still bad weather seems to find us.
Simons Town seems to be a nice little coastal area, very nautical, with little boutique shops and little restaurants dotted here and there.
There is a navel base here as well, we have had a lot of enjoyment watching and hearing them do all their daily exercises and drills, training whatever you call it.
They seem to do most of their training on shore, we have watched them in their scuba gear on the beach they jump in and one or two pretend to get into trouble and the others have to save them, they do this over and over, when I first saw them doing it I was not really sure if it was a drill or not, they were all standing around this guy they just dragged out of the water, then he does a back flip and jumps up, yeap just a drill...haha
They do a lot of exercises on the other side of the bay as well, this little exercise they do is they all have to jump in the water and they have 10 seconds to climb out over old car tyres that are attached to a wall, the poor guys who don't make it have to drop and do push ups.
Now it's cold here and I bet the water is freezing, when we first saw them we thought they had wetsuits on, out come the binoculars and nope they are just very dark skinned, serious really really dark, it's amazing, I have never seen anyone that dark, we have been here a long time and see all sorts of colours but these guys man they are pitch Black.
Then you get to their boats they take them out frequently, and then yesterday we watched them take out a submarine.
Now these subs fascinate me, why? who those, maybe I'm a bit jealous, imagine being out in the ocean in one of them, you hit bad weather, no problem, just dive down away from it till it passes, how cool would that be....haha
They have a old sub tied up to a wharf and we go past it every time we go into shore, so when we saw this sub we though you have to be kidding, surly not that old thing, it looks like it would just sink to the bottom, so out come the binoculars again and yeap it's still there, this was a better one thank god.
It was fun watching them one minute they were all on deck, than the next it's gone, we actually didn't see it go under which was a shame, we got distracted with something else, and when we looked up again it was gone.
As you can tell we have a lot of entertainment out here to keep us occupied, we have not been to shore much, well I haven't, The Captain has more so than me.
The first few days we had the local ferry service come and take us back and forth, it a guy well two guys both called Godfrey..haha they have a little boat that comes out and gets you, it cost nothing ( so we don't have to worry about not paying him till he gets us to the other side) all you do is give them a ring and within ten minutes they are their with a huge smile on their faces and you climb in and off you go, or very civilised and no wet butts.
Until we got our outboard fixed that is, the propeller that we got sent from America was waiting here for us when we arrived, (thanks again Roger.), and with a bit of engineering on The Captains part it fits perfect and working fine.
So on Sunday just gone, George and Heather, ( The Captain's sister and brother in law) came down for another visit.
It's very rolly out here and if you remember they visited us a few times in Knysna where it was so flat and calm, here it's not so.
Heather gets a bit seasick and I was worried how she would handle it, ( I have even felt a bit off some days out here), but they wanted to come out so off we go in our dingy this time, wet butts and all we pick them up, now there is four of us with wet butts...haha but she was fine, we had coffee and cake, but towards the end she was starting to look a little green so after a bit of a struggle getting back into the dingy, (it was rough out here) we all went to shore, yeap you guessed it wet butts again, I told them your not a true sailor unless you walk up the street with a wet arse, so George and Heather you are officially sailors in our books at least...haha
Now we get down to the dirty business of motors, yeap it looks like our transmission has to come out, we had a couple of guys come out the other day to have a look and it's all bad news.
We are going into the marina and tie up on their visitors wharf, where they will take out the transmission, we are not sure how bad it is we have to wait and see.
The bad thing is it will take awhile to fix, so it's looking like we are stuck here.
It's already very late in the season to go anyway, we sat down and did a lot of number crunching and all going well it will take us 60 days to get to the Caribbean, stopping at a few island on the way.
Now we could just go with the transmission like it is, and keep topping it up with fluid and hope for the best, but that's just not good.
If it goes completely out there and we have no wind we could bob around for weeks just doing nothing. You get what they call the doldrums out there, and the area we will be sailing is well known for this.
I want to get back home by mid August as our little baby will be arriving in mid September and I want to spend some time with my girl before she has the baby.
So it's looking like we may just leave the boat here and fly back from here, it will be a lot less money than flying back from the Caribbean, we will keep the boat out here on the mooring and have a guy look after it, for us, so that's our plan for this week...haha
It may change.
Well tomorrow is another day.
Diary Photos
16th Jun 2015 Image
Old sub
---
16th Jun 2015 Old sub
No Description
---
16th Jun 2015 The sub about to go under.
No Description
---
16th Jun 2015 Side view sub
No Description
---
---
16th Jun 2015 Image
This is the actually colour of the water
---
16th Jun 2015 Image
Kelp floating past our boat
---
16th Jun 2015 Image
The wall around the ships
---
16th Jun 2015 Image
Navy ship
---
16th Jun 2015 Image
Navy ship
---
16th Jun 2015 Image
Jelly fish
---
16th Jun 2015 Image
Jelly fish
---
16th Jun 2015 Image
Jelly fish
---
16th Jun 2015 Image
These guys just floating past
---