Harry and Judy's RV Trip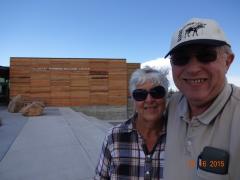 16th Jun 2015 - Summer 2015
Day 16-June 16, 2015-To Cheyenne, WY
Day 16-June 16, 2015-To Cheyenne, WY
Drove 169 miles in 4-1/2 hours. Temp went from a high of 75 down to 52 at 9PM. Crazy windy when we left the campground and then again at night. There were signs on the interstate about buffeting winds.
We drove through three states today. Started in Nebraska, drove over the S. Platte River and couldn't believe how flooded and high it was. Took one of those OOPS! turns and ended up in historic Julesburg, Colorado for about 10 minutes 'til we figured out how to get back on I-80. Passed through Sidney, NE where they're building Cabela's World Headquarters and the hugest Cabelas I've ever seen. Stopped at the Wyoming Welcome Center and got some info and maps and got into the campground about 3PM. Got finished setting up just before the thunder, lightning and pouring rain started. We decided to look at maps again and changed our whole itinerary for the next week or so. Had to call campgrounds and redo reservations but we're pretty sure we'll stay with this plan.
We're early for a lot of events in Cheyenne-there's a brewfest this week-end and the Cheyenne Frontier Days festival doesn't start 'til mid-July. We were here a couple of years ago so we kind of know what's around and I'm sure we'll find things to do.
There's lightning and rain all around us-I'm sure we'll get more tonight. It's so wet here they had to change their horse trail route to go along a construction road because the trail roads were underwater. Our site is pretty dry compared to other ones that are sitting in puddles. The big sky is beautiful, you can see forever. After dinner we got some gas and drove into town which was almost dead-surprising for a capitol city. Back to camp to find rabbits running all around. And the wind blowing. And it's only 52 degrees.
Diary Photos
16th Jun 2015 Us at Wyoming Welcome Center
No Description
---