Dora The Explorer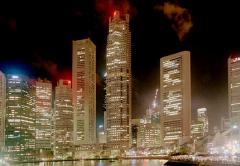 12th Oct 2007 - 14th Oct 2007
Singapore..or RIP Edna Ling 'Sindapore'
Ok
So I cheated with the photo's this time folks - I didnt have my camera with me so instead they come courteousy of http://www.picturesofplaces.com/Asia/singapore.html.
Singapore – A little bit of trivia for you courteousy of Wikipedia:
The name Singapura is derived from the Malay words singa (lion) and pura (city), which in turn is from the Sanskrit singa सिंह siṃya and पुर புர pura.[6] According to the Malay Annals, this name was given by a 14th century Sumatran Malay prince named Sang Nila Utama, who, landing on the island after a thunderstorm, spotted an auspicious beast on the shore that his chief minister identified as a lion (Asiatic Lion). [7] Recent studies of Singapore indicate that lions have never lived there, and the beast seen by Sang Nila Utama was likely a tiger.
It's an island nation located at the southern tip of the Malay Peninsula. It lies 137 kilometers (85 miles) north of the Equator, south of the Malaysian state of Johor and north of Indonesia's Riau Islands. At 704.0 km² (272 square miles), it is one of the few remaining city-states in the world and the smallest country in Southeast Asia.
When the main island was colonized by the British East India Company in 1819, it contained a fishing village sparsely populated by indigenous Malays and Orang Lauts at the mouth of the Singapore River. The British used the position as a strategic trading outpost along the spice route.[1] It became one of the most important commercial and military centres of the British Empire and the site, in 1942, of what Winston Churchill called "Britain's biggest defeat" at the hands of the Japanese.[citation needed] Occupied by the Japanese Empire during World War II, it reverted to British rule in 1945 and was later part of the merger which established Malaysia in 1963. Less than two years later it left the federation and became an independent republic on 9 August 1965.
I have to say I would fly all the time with Singapore Air if I had the chance, even in cattle class it's the most enjoyable a flight can be! Leaving Australia was a sad task in hand, I made some really really great mates over the last year and saying goodbye I was gutted. The relationships you form when you are away from home are pretty intense as those people become your friends & family from back home. It was inconceivable to think that I potentially not see them for some time so I just said 'see you soon' and legged it beforeI had chance to cry. However on the plane I was totally overwhelmed & needed a constant supply of red wine to knock me out in order to sleep. Luckily for me I had three seats to myself so I laid out and fell into a semi-tipsy sleep which when I woke up had a mouth consisting of an old trainer.
Upon arrival at the airport I was met by a stream of paparazzi with flashing camera's 'you shouldn't have gone to so much trouble' I bellow to find that they were there to greet the para-olympic team arriving back to Singapore.
My hostel was situated in the Malay area & situated right next to the Sultan Mosque, which the next morning when out for a morning run I had to manover 700 muslims going to pray. Amazing to witness such an event & the social structure around which it's formed, it was like the film 'East is East'. A white girl going running was much to their amusement & no matter how conservatively dressed one could be for a run I still felt rather uneasy but that's the way it is.I felt like Barbara Windsor.
I tried to make the most of my two days there and crammed in as much as I could – sightseeing around the various area's : China Town, Little India, The Colonial Area, The Financial District, Raffles Hotel etc. I took an open –top bus tour around the island but didn't manage to make it to the Island Sentosa. Next time I promise. I thought it only proper to help myself to a proper 'ruby murray' in Little India so the bus tour dropped me off where I went to eat then picked me back up an hour later. Again I walk into the curry house and I think oh bugger maybe you shouldn't be here as they stop eating and look in my direction but the lure of food is too much! No idea what I ate but it was lovely - compliments to the chef.
I ran past Raffles Hotel twice but didn't manage to make it inside for a Singpore Sling, I was on a budget and couldn't justify their prices….I just pressed my sweaty face against the windows instead and looked in. The Night Safari was great where I saw Rhino's & White Tigers in close proximity.
I love the fact that so many young Singaporians are married, it seems to be de rigeur. It's nice to see and my flight to Male consisted of many honeymooner's. Singapore a great place to be, such diversity in harmony. Could it be zero tolerance & the death penalty works?
More Maldives news to follow in next entry.
stories to follow.
Diary Photos
---