Harry and Judy's RV Trip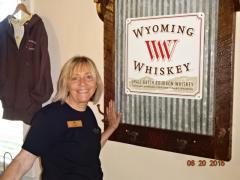 20th Jun 2015 - Summer 2015
Day 20-June 20, 2015-To Cody, WY-Whiskey, Dinner, Cowboy Show and a Rodeo
Day 20-June 20, 2015-To Cody, WY-Wyoming Whiskey, Dinner, Show and a Rodeo
Drove 116 miles in 4-1/2 hrs. Temperature is only 80 but the sun is strong and it's hot. Went down to 60 by the time we got home tonight.
Started out by driving about 15 miles out of our way to a little town called Kirby, WY, (population 92) for a tour of Wyoming Whiskey. It's a small distillery with only ten employees, five in production and five in the office and sales. They produce about 40 barrels a week. Most of the production is done manually and although they were not operating because it's Saturday we got a really good idea of how the bourbon is distilled from the water and grains all the way to how it's distributed thanks to our wonderful tour guide, Char, who is originally from Boston and a Red Sox fan. But we won't hold that against her. She gave us a very detailed tour and answered all our questions and really knew her stuff. The process is very interesting.
We continued on our way via Route 431 for thirty miles, a road with a few cattle ranches and horses but mostly sagebrush for as far as the eye can see. Then, all of a sudden, we came on beautiful buttes, red and green, and deep canyons. I can't describe how beautiful and magnificent it is to see this. Didn't see much wildlife (except a dead fox) until we got close to a town called Meeteetse and then we saw abundant antelope again and a ranch with beautiful white cattle grazing. Continued onto route 120 to Cody, WY where we're spending a few nights. Got in about 4PM and set up.
I wanted to go to the rodeo and we found a deal called the trifecta with dinner and a show at the Cody Cattle Co. which included dinner, a cowboy show at the restaurant and tickets to the rodeo. The restaurant was a couple of blocks from the camp. Dinner was all you can eat chuckwagon food-chicken, beef, beans, etc., etc., etc. Long picnic tables set up family style. The waiters turned out to also be the entertainment-The Triple C Cowboy Band-very good entertainment. They finished at 7:30, just enough time to get to the rodeo a couple of blocks down the road which started at 8:00. It's called Cody Nite Rodeo and is held every night in the summer. It wasn't just an entertainment rodeo, it was for real money and real standings. The entrants change with the circuit and tonight was all Indian cowboys, men and women, even an under 12 years old category, trying for a spot at the Las Vegas Rodeo in a few weeks. There was bareback riding, calf roping, steerwrestling, saddlebronc riding, steer riding, calf scramble for the kids, team roping, barrel racing and bull riding. And of course, clowns. We sat right over the gates and had a great view. It was an exciting adventure and I was OK with most of the events but found myself hoping the cows and bulls would outrun the cowboys. Was chilly at the rodeo and we needed the heat when we got back to the RV.
Diary Photos
Diary Movies
---