Harry and Judy's RV Trip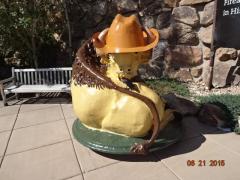 21st Jun 2015 - Summer 2015
Day 21-June 21, 2015-Cody, WY-Buffalo Bill and a Powwow
Day 21-June 21, 2015-Buffalo Bill Cody and the Powwow
Great weather again today-up to 92.
HAPPY FATHERS DAY TO ALL THE DADS!!!!!
We got up early for us and were out of the RV by 9:30. We went to Buffalo Bill Center of the West Museum which is really six museums-Buffalo Bill-the life and the legend, Whitney Western Art Museum, the Plains Indians Museum, Cody Firearms Museum (over 4000 firearms with a huge exhibit on loan from the Smithsonian), McCracken Research Library and Draper Natural History Museum. They all have three floors worth of displays and information. The ticket is good for two days and if we were here tomorrow we'd probably go back. There's so much to see and learn. On the grounds is Wm. Cody's boyhood home and some other buildings and sculptures. They have live raptor shows and different tours and shows during the day. We had lunch there which wasn't just junk food-I actually got a really good salad. Right across the street there was a Powwow going on. It was part of the Plains Indians Museum exhibit and was the 34th annual Powwow held here. 225 dancers from 42 tribes, all in magnificent native costumes participated and each age group was judged separately from the "Golden Agers" to the under 12 group. The colors, bells, beads, feathers, singing, dancing and drum beating was a feast for the senses. The drummers sat in the shade under tents erected all around the perimeter of the grass arena and when their tribe danced they would beat the drums and sing in their native tongue. It was something to see and hear. Native American vendors were on the outside of the competition circle selling mostly jewelry.
After that we drove through town, just a couple of blocks of souvenir shops, restaurants, etc. There are sculptures of buffalo decorated all around town and a beautiful "Field of Honor" in front of the visitors center-over 1000 flags in the ground-each one bought for a loved one who served or is serving. Got gas and stopped in at the local Wal-Mart for groceries. All this, the Museum, Rodeo, town, Wal-Mart and our campground are on the same road all in about 3 miles of each other. There's another Wild West Show in town tonight but we know how it turns out and we both need a little rest so we just went back to the RV. Made Harry a nice Father's Day dinner. About 8:30 a stiff wind came in and the temp dropped to 62. We're off again tomorrow.
Diary Photos
Diary Movies
---