Harry and Judy's RV Trip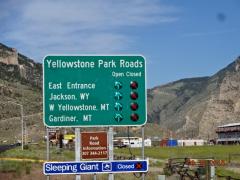 22nd Jun 2015 - Summer 2015
Day 22-June 22, 2015-Yellowstone & Grand Teton National Parks
Day 22-June 22, 2015-Yellowstone & Grant Teton National Parks
Drove 203 miles in 8-1/4 hours. Cool, about 65 all day
WILDERNESS ALL DAY!!!!
Cody is 75 miles from Yellowstone and all of those 75 miles were scenic wonders. As soon as we left the campground we started going through mountain passes, through Buffalo Bill Dam, State Park and Reservoir. We went through 2 short tunnels and then a third long one. Entered Yellowstone National Park through the east entrance at 10:30 and drove past Sylvan Lake, then into a forest devastated by fire, around hairpin turns, waterfalls, up and down the mountains. Lots of rockslides, they must have had a bad winter. Wildflowers are gorgeous and smell great. We stopped at Lake Butte Overlook on the Yellowstone River and saw hydrothermal vents, steaming like the water was boiling. Lots of traffic and people at Fishing Bridge Visitors Center. Right past the visitors center we saw an elk in the woods just grazing. We took Grand Loop Rd. around Yellowstone Lake, a big lake that had whitecaps today because of the wind. Every turn had another magnificent view in store for us.
At West Thumb Junction we got on John D. Rockefeller Jr. Parkway and pulled over at an overlook for lunch. We then crossed the Continental Divide at Lewis Lake-7500' elevation. The falls were beautiful.
We continued out the south entrance of Yellowstone and then entered Teton National Park. Passed Jackson Lake, then followed the Snake River. We stopped at Coulter Bay Campground-there's a private one (full, of course), and a Federal one that had sites available, no hook-ups, just pull ins. We knew about this campground but didn't want to take a chance they would be full so we've made reservations elsewhere. Saw a big buffalo herd on Willow Flats and then continued past Teton Glacier and then out of the park. The National Elk Refuge is here but none were out grazing. Also passed National Museum of Wildlife Art which has beautiful statues posed on top of a hill.
Stopped at Jackson Hole and visited Vom Fass Olive Oil Co. and got some vinegars. They also carried the Wyoming Whiskey we visited in Kirby and made their own whiskies. Not as many people here as I would have expected, guess they all stayed up in Yellowstone today. Drove over Teton Pass, very hairy pass, hairpin turns, 10% grade with lots of traffic. We did this a few years ago during a hail storm so this year it was almost uneventful. Got into our campground in Victor, ID in the Teton Valley about 5:30. It's about 2 minutes after coming down from the mountain so I couldn't hear a thing but the people who checked us in were used to it so they were patient.
Must be the longest day of the year-it didn't get dark 'til almost 10PM. But it sure got chilly, too.
Diary Photos
Diary Movies
---