Liward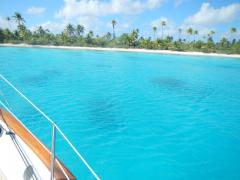 28th May 2015 - 28th Jun 2015
Fakarava - Tahanea - And Back to Tahiti
Our last update covered our first week in Fakarava in the Tuamotu Islands of French Polynesia. We spent two more weeks visiting four different anchorages in this beautiful atoll. Then we sailed overnight to the Tahanea Atoll and spent two weeks there. Next we sailed back to Tahiti to pick up an engine part and that's where we are now. Internet is available so I'm making an update to the website!
Diary Photos
28th May 2015 Fakarava Tonae
The second spot we visited in Fakarava was called Tonae. We were the only boat here and had the long beach all to ourselves. The anchorage was really nice and you can see that the coral heads were spaced far enough apart that we could find a clear spot.
---
28th May 2015 Taking Out the Trash - Polynesian Style
Since there is no community in this area Steve has to take care of all our garbage himself. Every few days he goes ashore, digs a hole and burns the trash. When he is done he covers it back up and no one would even know we were there!
---
28th May 2015 After work
After the hard work of taking care of the garbage, its time to lay in the hammock and look at the view!
---
29th May 2015 1819
Next we stopped at a place called Hirifa. Two familes live here so we enjoyed meeting them. We also found the remains of an old coconut plantation. The sign over the door said 1819!
---
29th May 2015 Fakarava Phone Booth
Here's a phone booth for this remote area of Fakarava. In this section of the atoll the cell phone coverage was very marginal. The locals made steps up this palm tree so they can climb and use their cell phone!
---
30th May 2015 Liward Solo Hirifa
For a few days we were the only boat in Hirifa. It was a great protected anchorage, and good thing because we had three days of 25knot winds. But we were nice and comfortable.
---
1st Jun 2015 Hirifa Bar and Restaurant
Hirifa has a little restaurant/bar where you can get a meal with advance notice.
---
2nd Jun 2015 Liza and Toorea
The proprieters are Liza and Torea….wonderful people.
---
3rd Jun 2015 What a stage!
So Steve brought ashore his guitar and new small little sound system and had a great time playing. Look at that beautiful sunset behind the stage.
---
4th Jun 2015 Jacob joins in!
It was just us and the two local families. One of the young men was a great guitar and ukulele player. But we are convinced that almost everyone in French Polynesia plays ukulele! Now Jacob has a new electronic tuner and strings!
---
5th Jun 2015 Shell Collecting
Since not many feet find this beach, the shell collecting was pretty good. Here's the find for only one day!
---
6th Jun 2015 Waterfront Swing
Of course there was a waterfront swing. No other boat to see except us!
---
7th Jun 2015 Kayaking
The kayaking was nice also and since there were no waves Steve paddled his surfboard for exercise a few times.
---
8th Jun 2015 Heiarii and Lea
One of the lovely families had a new five month old baby. They generously shared some of their fresh vegetables with us.
---
9th Jun 2015 Good - bye Hirifa
We spent a number of days in Hirifa because the wind picked up and it was a really nice protected anchorage. We think this may be one of our new favorite spots
---
10th Jun 2015 Fakarava Dive Resort
Then we moved on to the Fakarava south pass area where the diving is spectacular. There are several dive resorts located there. Serious divers come here to enjoy the spectacular water because the amenities are limited!
---
11th Jun 2015 Pacific Provider
We shared the anchorage with the big Pacific Provider. This boat is what is called a "Shadow Boat", as it carries all the toys and supplies for a big mega yacht that is anchored about 1 mile away. We got to know the crew and even got a tour.
---
12th Jun 2015 A Submarine!
Now we have seen everything! The Pacific Provider carried a submarine so the owners of the mega yacht could see the deep! The submarine was capable of going to 3000 feet and had 2 crew to operate and maintain it.
---
13th Jun 2015 Coconut Seat
At Fakarava south there is a small village with a few houses, old church and a dive camp. We went ashore to explore a little bit. This bicycle with the half coconut seat caught our eye! No place to buy bicycle parts, but plenty of coconuts.
---
14th Jun 2015 Fakarava South Underwater - Blue Fish
The diving at Fakarava south pass is world class and is on the UNESCO list. There were so many fish, of all types.
---
15th Jun 2015 Fakarava South Pass
The water is warm and super clear.
---
16th Jun 2015 Riding the current with a shark
The current in the pass can really rip. So you have to pick the time correctly to be sure to be in an incoming tide. You take the dingy out to the outside of the pass, get suited up and jump in the water while holding on to a line off the dingy. The current just carries you and the dingy in over the beautiful coral and fish. And of course a few sharks share the current with you. You can see one in the background.
---
17th Jun 2015 Fakarava Black Tip
Here's a close up of one of the black tips sharks.
---
18th Jun 2015 Coral, Coral, Coral
At times the current is so strong that you feel like you are flying over the coral covered bottom. Almost like an amusement park ride! The coral was absolutely beautiful and some of the nicest we have seen in our travels. All kinds of colors, blue, pink, lavender, yellow, orange.
---
19th Jun 2015 More Fish
There were also lots of schools of bait fish.
---
20th Jun 2015 Multicolor Fish
These parrot fish eat off the coral and you can hear them crunching along as they go.
---
21st Jun 2015 Pretty Fish
We don't have a fish book so we just make up the names as we see them. And we continue to see many types that we have never seen before!
---
22nd Jun 2015 Yellow Fish
No Description
---
23rd Jun 2015 Tattoo Fish
We snorkeled the south pass every day while we were there.
---
24th Jun 2015 Big Napoleon Wrass
This Napoleon Wrass was about 3 feet long. And we saw bigger ones!
---
25th Jun 2015 Tahanea Google Earth
Time to sail on to the next island. This one is called Tahanea and we sailed overnight so we would arrive at the entrance pass in the morning. That way we can wait offshore until the conditions are good to enter the pass on the right tide. In this google earth photo, you can see the pass on the north-east coast about in the middle.
---
26th Jun 2015 Tahanea
Tahanea is an uninhabited island and has been declared a national park because it is the nesting grounds of the endangered Tuamotu Sandpiper. It is a lagoon of about 30 miles by 10 miles with many islands around the perimeter.
---
26th Jun 2015 Tahanea Fishing Outpost
No one lives on this atoll but we did find this little fishing camp. The fisherman visit from nearby islands and spend a few days we think. But we saw no one!
---
27th Jun 2015 Relaxing in Tahanea
We did a lot of snorkeling, beach walking, and relaxing in the solitude. And the stars in the night sky were absolutely amazing!
---
27th Jun 2015 No one around for 40 miles
For a number of days, we were the only boat in this atoll. And the most boats we heard was 4!!! Not many places where you can have this solitude. There was no one around for 40 miles!
---
27th Jun 2015 Cushion Starfish
During one beach walk we found this weird looking starfish. The picture is through 3 feet of clear water in bright sunlight so all the colors don't show. But it was beautiful. I actually thought it was an embroidered pillow that had fallen off someone's boat. But it's a Cushion Starfish!
---
27th Jun 2015 Sailing Back to Tahiti
After 5 weeks in the beautiful Tuamotu Islands it was time to sail back to Tahiti. It was a 300 mile sail that took us 60 hours. We had every kind of wind condition from 0 to 25 knots, so there was a lot of sail changing. We used every sail we have, at least once!
---
27th Jun 2015 Liward does 8.5 knots
The second day the wind picked up before the seas built and we were doing 8.5 knots which is Liward's hull speed. We don't often go that fast!
---
27th Jun 2015 Back in Tahiti for a week
So we are back in the marina in Tahiti. We had a small engine part shipped in to Tahiti from the USA so we picked it up, changed it out, and now everything is ready to go. We'll spend a few more days in Tahiti enjoying the marina and stocking up with groceries before we head north to Huahine for the Heiva festival.
---