Harry and Judy's RV Trip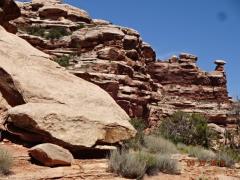 27th Jun 2015 - Summer 2015
Day 27-June 27, 2015-Canyonlands National Park
Day 27-June 27, 2015-Canyonlands National Park, Moab, UT
Drove 114 miles in 2-1/2 hours to get to the campground.
Temperature was 100 at 10AM and stayed at 100 all day.
Continued on Route 6 through Green River to Crescent Junction then turned south on route 191, flat desert with cliffs in the distance and the ever present railroad loaded with coal on either side of us. As we neared Moab we started to see red sandstone rocks which got bigger as we got closer to Arches and Canyonlands National Parks. We drove through Moab, a very touristy, busy town to our campground about five miles out of town. Got in early, before 1PM, so we had lunch and then went to see the sights. We went to the Moab Visitor Center and got some info about the parks and the town. Then drove 45 miles back up Route 191 to Canyonlands National Park and drove a total of 113 more miles today.
I now have a new favorite National Park-Canyonlands. It is amazing. They describe it as a Wilderness of Rocks. We stopped at Island of the Sky Visitor Center and saw a short film about how the canyons were formed. Mostly sandstone, some are rounded, some pointed, arches, spires and unusual formations. Some rocks look like if you sneezed on them they'd start a rockslide. Other places had rockslides that may have happened eons ago. Some had rocks balanced precariously on top of a mountain of other rocks. There are four sections of Canyonlands, Island of the Sky, the most accessible by car, the Maze, Needles and Horseshoe Canyon. They're separated by either the Green River on one side or the Colorado River on the other. We drove through Island of the Sky. There's only one road in and out that goes 17 miles one way and ends at Grand View Point Overlook. The elevation at this point is over 6000'. You then turn around and go back the same way. There's a five mile offshoot road that goes to a different view. There are turnouts and overlooks on both sides at different interesting viewpoints and each one is different and astounding. Very dry, they only get 9" of rain a year, usually in a heavy thunderstorm which causes flash flooding and there are quite a few washouts. In the distant east we could see the snowcapped La Sal mountain range.
We stopped at Moab Micro Brewery for dinner. The cold beer really hit the spot after being in 100 degrees all day. I had salmon and Harry had ribs which he said rivaled (or were better) than Cody's
Diary Photos
Diary Movies
---