Harry and Judy's RV Trip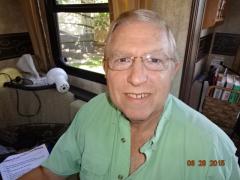 28th Jun 2015 - Summer 2015
Day 28-June 28, 2015-Arches National Park
Day 28-June 28, 2015-Arches National Park
Temp started at 113 and went down to 108 about 5:30. It's brutal.
Yesterday we looked down into canyons, today we looked up into arches. A rock with at least a 3' hole in it is considered an arch and there are over 2000 of them in Arches NP. To see most of them you have to hike up the trails but some have viewpoints and overlooks and you don't have to walk far to see them. The rocks are Entrada sandstone, created over 3 million years ago but, of course, they change constantly with the weather.
Once we entered the park we stopped at the Visitor Center and saw a short film about the arches. These films give us an idea of what to look for. Then we drove up, up, up the curvy road to sandstone formations like Park Avenue, Sheep Rock, the Three Gossips, Tower of Babel, Courthouse Towers and Balanced Rock. On one side of the road there are huge rocks called The Great Wall and on the other side are petrified sand dunes. There are also other formations they call fins, bridges, spires, towers, hoodoos and cross bedding. The arches we saw were Double Arch, Landscape Arch, North Window, South Window, Pothole Arch, Delicate Arch-the arch on the Utah license plate and the arch most widely recognized, Skyline Arch and Sand Dune Arch. The road is 18 miles long, one way in and out with a couple of offshoot roads to overlooks and trail heads. At the end of the road is Devils Garden Campground, a nice campground, no hook-ups and full. Great views. The greenery is mostly sage brush and some juniper scrub. Some great views of the Cache Valley and Salt Valley, where we stopped for lunch. Huge rounded sandstone rocks at Salt Valley. Like Canyonlands NP, every time we turned a corner we had magnificent view.
When we left the Park we drove Scenic Byway 128, which parallels the Colorado River. There's a nice bike trail here too and a few campgrounds right on the river. And some sandy beaches where a few people were wading. We were in a deep canyon with fallen rocks on both sides of the road, really awe inspiring. The river was mostly calm and some rafters and boaters were out. The water wasn't as cold as I thought it would be and although it looked dirty it was just the red sand that had washed down from the mountains and sat on the bottom that made it look muddy. About 15 miles down the road we found Castle Creek Winery and stopped in for a tasting. They had a couple of nice reds and we were tempted to get a glass and sit on their patio overlooking the river but even on the river it's 108 degrees. We put 100 miles on the truck today.
Back to the campground and air conditioning. I watched some Western Tanagers and robins playing in the sprinkler at the site next to us. And some big hummingbirds going in and out of a big pine tree in back of our site. I think they have a nest there. I might have to investigate further. Everything (including us) is covered with a fine layer of red dust. Oh, and Harry shaved for the first time in over a week! I think he was getting used to the mountain man thing.
Diary Photos
Diary Movies
---