Harry and Judy's RV Trip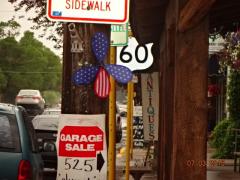 4th Jul 2015 - Summer 2015
Day 34-THE FOURTH OF JULY!!! HOORAY!!!
Day 34-THE FOURTH OF JULY, 2015-Canon City, CO
Temp got up to 80. Some rain, sun and clouds.
Spent some time in the morning looking at maps and campground books and devising a plan for the next few days.
We're at the top of "8 Mile Hill" right near Royal Gorge. We drove down the 8 miles to Sharon's office where there is real wifi, you know, the kind that works. I updated the blog, checked e-mails and then we all went to IHOP for lunch, about the only place open today. Lunch was great, though. Sat there 'til the rain let up then we all came back up the hill to the campground and chilled out. Sun came out and it turned out to be a beautiful day. It's the first day we actually just lazed around and talked. Felt good to do nothing for a change. No fireworks nearby, just the little ones from some campers.
Check out the pictures I've posted for today to see just how patriotic this country is. And I only posted a few of the examples.
Off again tomorrow.
Diary Photos
---