Harry and Judy's RV Trip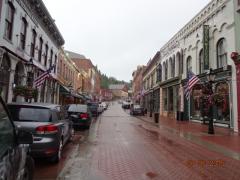 6th Jul 2015 - Summer 2015
Day 36-July 6, 2015-Black Hawk, CO
Day 36-July 6, 2015-Black Hawk and Central City, CO
Rainy, wet, foggy cold day. Never reached more than 47 degrees.
The campground is Base Camp at Golden Gate Canyon about an hour northwest of Denver. It's over 9000' in altitude and I'm having a hard time breathing, etc. They say to slow down, drink water and take it easy. I haven't perfected the slowing down, taking it easy part yet.
After breakfast we went down to the office and laundry room, put in some laundry (they charge double what most campgrounds charge) and I borrowed the office land line phone to make a few calls. We also had wifi in the laundry room so we caught up on some e-mails. Back in the RV we read for a while, then had a late lunch and ventured into Black Hawk again.
Black Hawk is a tiny town, has innumerable casinos, big and small, some with restaurants but most just have slots and tables. No businesses other than casinos, numerous parking lots and they're building an huge parking garage right outside of town and thousands of slot machines. There's a free shuttle that takes you from casino to casino in Black Hawk and Central City, a mile away. It's originally a gold mining town and there are still some active mines in the nearby mountains. In Central City, there are pretty Victorian houses up on the hills, an active opera house totally renovated back to 1878 and Main St. is preserved as it was in the 1870s. It's a National Historical District. Central City is 1 mile square (and advertised on a big sign as "The Richest Square Mile on Earth" and Black Hawk is smaller.
We went to Reserve Casino-"The Loosest Slots in Black Hawk"-well, not for us it wasn't. Left there and went to Central City to find dinner. Hard to find-some of the casinos that had a restaurant only had food on week-ends. And both towns were very empty-seems everybody was here over the long week-end and now they were in a lull. We went to a Dostal Alley Brew Pub, had a beer and heard about Johnny Z Casino's restaurant. If you join their Player's Club (of course we did) you get either a prime rib dinner or rib dinner for $7.77. Food was really good and we got a free ice cream cone at the adjoining Starbucks. Harry redeemed himself on the slots but not me. I went home a loser.
It was so foggy on the way back up the mountain we almost missed seeing the deer on the side of the road. And cold, and wet and rainy.
Diary Photos
6th Jul 2015 Quiet, downtown Central City
No Description
---
6th Jul 2015 Us at Dostal Alley Brew Pub
No Description
---