Harry and Judy's RV Trip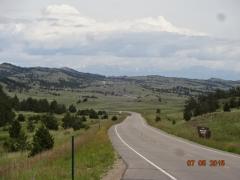 5th Jul 2015 - Summer 2015
Day 35-To Black Hawk, CO
Day 35-July 5, 2015-To Black Hawk, CO-What were we thinking???
Drove 155 miles in 6-1/2 hours.
Day started sunny and 70, went downhill from there. Rainy and 55 most of the afternoon.
Sharon stopped by the campground to say good bye and we got on the road fairly early, about 9:30.
We took the road less traveled again which happened to be Highway 9, a beautiful, easy drive through valleys, up rolling hills, down again into canyons. We went through Hartsel into Fairplay and South Park City, another place we'd like to come back to. Little historic town, more than 20 original log cabins built in the 1800s still occupied today. Through Mosquito Gulch (we won't be going back there) to Alma, the highest incorporated town in the US. Up Hoosier Pass, through snow covered mountains to the summit at 11,857' and over the Continental Divide. Back down was quite a ride-hairpin turns at 8% grades into Breckenridge, one of the most popular ski resorts in the winter and summer activity resorts in the summer. Sunday afternoon on a long holiday week-end and it was abuzz with people. The cafes and restaurants were filled, people and bicycles weaving in and out of traffic-glad to get out of there. But then we went through Frisco, about the same as Breckenridge, maybe not as popular but it was Founders Day in Frisco and lots of people were out finding things to do.
Got to Dillon and passed Lake Dillon, busy with sailboats, kayakers and fishermen. Had to get on I-70 for the last fifty or so miles, it's about the only way from Dillon to Idaho Springs and we immediately came to a halt. It was stop and go 'til we got to the Eisenhower Tunnel, a 1-1/2 mile tunnel through Mt. Trelease, and the traffic started to flow through the tunnel. Til we got out of the tunnel and traffic stopped again. It took us three hours to go 30 miles. Tried to get off once and go local roads but we just ended up backtracking a few miles and having to get back on the interstate anyway. We did find cheaper gas though so it was worth our while. And we got to wave to the people on the Silver Plume train. Fast running river to our right with rafters going down and a few zip lines going over the river. We should have realized it was the last day of a long holiday week-end in one of the most popular vacation spots around here and people would be going home. Had we thought about it we probably would have spent another day in Canon City.
Once off I-70 we started the climb up "Central City Casino Parkway" 15 miles up a steep, windy road that leads through Central City and Black Hawk to our campground. Didn't get there 'til 4PM and they tried to put us in a short site. They almost lost a couple of their beautiful aspen trees. So they moved us to a nice pull-through.
Set up, had dinner, and drove back down to Black Hawk. Instead of the Parkway we took a shortcut they told us about at the office, 3 miles down a dirt road that leads right to Ameristar Casino's parking lot. This is the casino that Harry and I won big at a few years ago. It was really busy, filled with people but it's a non-smoking casino which was really nice. We couldn't find the same machines but tried our luck at others. I won about $80 at the first slot I tried and managed to lose all but my original $20 by the time we left. And we didn't win the Harley-Davidson they gave away. But there's always tomorrow.
Diary Photos
Diary Movies
---