Sailng on Windwanderer.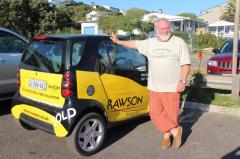 5th Jul 2015
Monday 5th July 2015.
Monday 5th July 2015
Well we have been busy little soldiers lately.
They finally managed to get our transmission back in, but of course it came with dramas, surprise surprise.
We had a very bad moment, actually two, the first was when it was all in place, the young guy Sammy ( who has been working on it the whole time,) yells out to his boss Chris quick there is water running in.
Now if you own a boat those few words put the fear of god in you.
I'm sure I've spoke about the stuffing box before, but basically it's a box kinda thing that goes around the shaft, you adjust it and fill it with stuffing now and then and it's sole purpose is to seal where shaft goes through the hull and drip water on the shaft to keep it cool.
Well this baby was letting water in like a waterfall, a small one, but enough to start a panic, with pale faces all round Sammy races to the back of the boat to try and slow the Leak, Chris jumps on the phone and calls the marina manager, and tells him we may have an emergency and call the navy, ASAP as we may need there traveller to get lifted out, that was the first call, then he jumps back on the phone and says to get the divers standing by.
Luckily the new bilge pumps were doing their job, and pumping the water out as quick as it was coming in, we were all crowded in our cabin, as the box is under the floor there, Sammy lying on the floor, another worker holding a torch, Chris pacing, well as much as he could in a three foot space, The Captain watching and giving advice and myself sitting on the bed trying to keep out of everyone's way, but no way was I going to miss out on all the action.
In hindsight it was not really the best place to perch myself, if the boat was going to sink I would of been the last one out.
So Sammy finally stops the leak by loosening up the screws, yeap go figure, it is suppose to work by putting stuffing in and tightening up the screws.
Crisis over for awhile, poor Chris aged ten years, myself a few more, The Captain was fine, as he has faith in the bilge pumps.
Chris goes off to try and arrange stuff and Sammy hung around for awhile to make sure all was ok.
Chris comes back and tells us it really needs to come out of the water so they can fix it properly, but the navy has the only lift that could get us out as we are too big for theirs.
Well the navy refuses, so he has arranged for two divers one to go under the boat and plug the shaft hole, the other to keep an eye on everything and a pump on standby.
But they can't do it for several days, great.
The next few days were shocking I lost sleep worrying that the boat would sink and no matter how much The Captain assured me we would be fine I would not leave the boat.
The day came and with only a small panic when the plug they used kept coming out of the hole and water coming in, the diver had to end up staying under there and holding it in, while they fixed the problem, it seems the shaft had gone out of alignment, but they managed to get it all sorted out.
So yesterday after almost a week of drama they came and started up the engine to make sure all was running good and no more leaks, and yeap oil is pouring out of the transmission, far out it is worse than before, so today they come to take it out again, man does it ever end?
We also caught up with our American friends Marcie and David from the boat Nine of Cups.
They were in Cape Town, and hired a car and picked us up where we all went to a favourite little restaurant in Kalk Bay. We have been here once before and the food is excellent and the view is spectacular. When the ocean is rough, it crashes right on the windows. Last time Marcie got some great pics at the wharf outside, this time the ocean was quiet but the company made up for it.
About a week ago we had lunch at one of The Captains friends house, Errol and Anyja. It was a lovely afternoon spent and the great thing is Errol has a spare car we can use while we are here, yay no more taxis and we can come and go as we please,
until I saw it.
Serious this has to be the smallest car I have ever seen, and to add to the embarrassment, it's painted bright yellow with his real estate office business, totally embarrassment plus.
Every time we go out in it, I have to keep reminding myself that's it's for free and it's better than walking, just....haha
Well tomorrow is another day.
Diary Photos
5th Jul 2015 Image
The Captain in his Happy Pants.
---
5th Jul 2015 Image
One of Marcie's great pics, Kalk Bay.
---
5th Jul 2015 Image
Marcie and David took this pic.
---
5th Jul 2015 Image
Kalk bay, when it's rough.
---
5th Jul 2015 Image
Sammy hard at work.
---
5th Jul 2015 Image
What a great smile our Sammy has.
---
5th Jul 2015 Image
Sammy.
---
5th Jul 2015 Image
The car yeap it's little.
---