Harry and Judy's RV Trip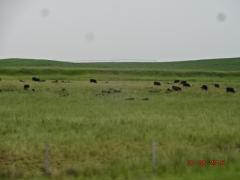 8th Jul 2015 - Summer 2015
Day 38-July 8, 2015-Nebraska
Days 38-July 8, 2015-Nebraska
Day 38-Drove 224 miles in 5-1/4 hours, most on I-76 which, after about 50 miles, became I-80 in Nebraska. Rainy and cloudy all day, got up to 73. We wanted to go on a different road but there were no campgrounds for 400 miles so we decided to take the easy way through Nebraska.
We had the local paper delivered to our campsite, just like in a hotel. First time that ever happened.
Lost an hour when we entered Central Time Zone. Not much else happens in Nebraska, corn and wheat continues to grow, cows get fat, the Plains get flatter. Got off the interstate about 30 miles from our campground to try a local road, Route 30, Lincoln Scenic Highway. Not too scenic, but we found a Super Wal-Mart in Lexington and stocked up on food for a few days.
Perfect drive to start a book on tape, so we listened to a David Silva novel for a while. Campground is just an over-nighter, pull in, pull out, right off the highway. Got in about 3:30, rather early considering we lost an hour with the time change, but the next campground is about 100 miles ahead and we don't want to go that far today. Had elk and lamb burritos for dinner that Sharon gave us. Took a walk around the campground, not much to see just a big corn field in the back. Read for a while, I'm still trying to get into a book. Continuing on tomorrow.
Diary Photos
8th Jul 2015 Nebraska
No Description
---