Harry and Judy's RV Trip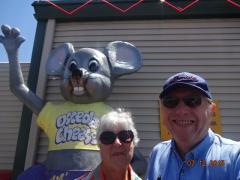 12th Jul 2015 - Summer 2015
Day 42-July 12, 2015-Branson and Million Dollar Quartet
Day 42-July 12, 2015-Branson, MO Day 1-Million Dollar Quartet
Drove 189 miles in 4-1/2 hours. Hot again-96 today.
Easy drive to Branson on I-49 and then Highway 13. We stopped in Osceola at the Osceola Cheese Co., home of over 250 varieties of cheese and tasted a lot of them and called it lunch. Drove through Lowry City-"Where the Ozarks meet the Plains" and the terrain got very hilly again. We're in the Ozarks and Branson has some really steep hills and slopes. We finished the book on tape and started another but as we got closer to Branson we started reading all the billboards and couldn't concentrate on the book. Got to the campground about 2:30 and set up-really nice site-shaded and in the woods but walking distance to the pool. It's a Passport America campground so we pay half price and it's really reasonable.
Had an early dinner, remember lunch was only cheese samples, then booked a few shows for the coming few days. The campground office gave us the name of "Terry's Tickets"-he's cheaper than the visitor center where we've gotten tickets before and he delivers them right to our campsite. Tonight's tickets he had waiting for us at the box office. First we went to the car wash and got the truck semi-clean-it's got so much crud on it it'll take a few more washings to get it really clean.
The show we picked tonight was "Million Dollar Quartet" at the Welk Theatre less than a mile from the campground. It's a TONY winning show about one night-Dec. 4, 1956, when Sam Phillips, owner of Sun Records had a "jam session" with Elvis, Carl Perkins, Johnny Cash, and Jerry Lee Lewis-the only night the four of them were together. It was in the early days of their careers, before they made it big. Nice story, great singing. I enjoyed the end when they just sang rather than the acting part, although they did sing then too. It was like a tribute to the four singers. Not a lot of overhead for this production, no set changes, just the recording studio that used to be a garage. No fancy costumes and no costume changes. No glitzy lighting, I think they tried to make it look like it would have looked at the time. No intermission either, which is unusual.
Diary Photos
---