Harry and Judy's RV Trip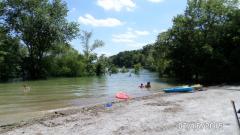 16th Jul 2015 - Summer 2015
Day 46-July 16, 2015-Branson-NO SHOWS TODAY!
Day 46-July 16, 2015-Branson
Yes, hot again-98.
Seven shows in 3 days is a little much for us so we took it easy today. There's so much to do here, the Titanic, Ripley's, Hollywood Museum and a lot more attractions. Then there's Silver Dollar City, a theme park about the wild west. Table Rock Lake has all kinds of water amusements and there's shopping, shopping, shopping. We went to Branson Landing on the far end of the "strip" to Historic Branson. Lots of little shops tucked into a few blocks, all centered around the main attraction, Dick's 5 & Dime, an old fashioned 5 & 10 cent store. You can find anything in Dick's, new stuff along with nostalgic toys and odds and ends. I bought another wind chime 'cause you never have enough wind chimes. One end of town is being redone and the merchants are mad because it's taking longer to finish than they expected….and they expected 6 years. This is year two and they've run into problems so it'll be a long time before it's back to normal. We saw Jak Knudsen, one of the SIX brothers going into Bob Evans Restaurant and heard that the magician, Rick Thomas, married Tara, his assistant last week. Must be a small town when we start hearing gossip.
Heard about a wine, whiskey and cigar bar at "Top of the World Golf Resort" but when we got there found out they didn't open 'til 5 and it was only 3. So we went to the sure thing, Lindwedel Winery, on the other side of town. We were here last year and liked their wines, especially the Norton. On the way there we pulled off a side road and found ourselves a nice little lagoon to have lunch by. Table Rock Lake is very high because of all the rain they've had and this little spot was created by the overflow. Some locals were rafting and kayaking and just cooling off in it. This lake is controlled by dams so it's not as flooded as the other lakes around but it was still high.
On the way back we stopped into another campground we were looking into here and were glad we didn't end up there….way too many tree to navigate around and it's far from the action. Found a Walmart and stocked up again and then back to camp. I went in the pool for a while, the water's gotten even warmer, probably hi 90s but it's quite refreshing anyway. Late dinner and packing up to leave tomorrow. We thought about staying another day (which is unusual for us, we're usually ready to leave after two nights) but decided to keep some things to do for next time.
Diary Photos
Diary Movies
---