Harry and Judy's RV Trip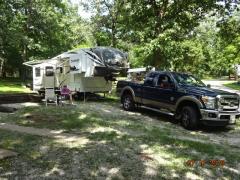 17th Jul 2015 - Summer 2015
Day 47-July 17, 2015-To Arkansas
Day 47-July 17, 2015-To Arkansas
Drove 48 miles in 1-1/2 hours. Hot again, 95.
Within 10 minutes of leaving the campground we saw six Duck Tour vehicles. We've been seeing at least one of them every day that we've been here but never six in ten minutes. Must be a thriving business too, they always look filled. Maybe next time we'll do one of their tours.
Short drive day, over the dam, up, down and around the rolling mountains like a rollercoaster, the engineers made no attempt at leveling out these mountains, they just went with the terrain. There are no steep grades like in the Rockies, just a nice gentle roll and a few 30 MPH curves.
Got to the campground right after noon and set up. We were met by a deer crossing the street right before the campground entrance. It's in Holiday Island, a development where we own a piece of property, in Eureka Springs, AR. We can camp here really inexpensively and it's a nice campground. Only about 30 sites, very few are occupied, quiet except for the incessant cicadas. We can use the two pools, two golf courses, marina, club house, etc. but we probably won't. It's right on Table Rock Lake, at the other end from Branson and a beautiful area. It's just over the MO line in AR, so close that the GPS shows our campsite right on the state line.
We had lunch and then did nothing the rest of the day. I'm still trying to get involved in a book that's not holding my attention. Harry seems to be enjoying his. When we first decided to Branson we thought we would just chill out there, but that didn't happen. Maybe this will be our relax and do nothing stop.
Diary Photos
17th Jul 2015 Our campsite
No Description
---
17th Jul 2015 Parked at the campground, MO, AR Line
No Description
---