Harry and Judy's RV Trip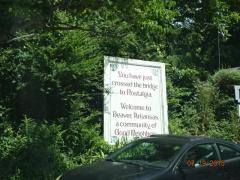 19th Jul 2015 - Summer 2015
Day 49-July 19, 2015-Bentonville & Springdale, AR
Day 49-July 19, 2015-Bentonville and Springdale, AR
Hot-99, not too humid.
We took the shortcut to Bentonville, over a rickety one lane wood bridge over Beaver Lake to Beaver, AR. The water was almost up to the bridge level. Round and round the mountains, up and down again into Bentonville, AR, the town that Sam Walton built around Wal-Mart. The original Walton's 5 & 10 houses an ice cream parlor, some vintage products for sale and a big Wal-Mart museum, everything you ever wanted to know about Wal-Mart and then some. There's a big square in the middle of town surrounded on four sides by shops and restaurants and that's about it for downtown Bentonville. The outskirts have mushroomed into a big city and wherever you look you see Wal-Mart this or that.
We stopped for lunch at Orchard Park, a big parks and rec area with lots of sports fields and then went down the road to Crystal Bridge Museum of American Art, with room upon room of American art dating from Colonial times to the present. The rooms were divided by periods of time-Early Nineteenth Century, Later Nineteenth Century, etc. Some of the more famous artwork includes Rockwell's Rosie the Riveter and Warhol's Dolly Parton. As we got closer and closer to present day the artwork got more and more, shall we say "eclectic", or shall we say "weird". There's 3-1/2 miles of walking trails outside with more artwork and sculpture but it's too hot for that.
Drove through Rogers and Springdale to Tontitown and the Tontitown Winery for a tasting. Nice, young couple owns it and live in the back. The family works at Wal-Mart during the day and makes wine in the evening and week-ends. Enjoyed a glass on their front porch and relaxed for a while. Went a few more miles to Sassafras Winery in Springdale, nice place for a gathering, their wine was good but expensive.
Drove home a different way, not so many twists and turns, still a two-lane curvy road. Took us an hour and a half to drive about 45 miles. A few cattle ranches and some big homes but mostly mountains and woods. The crape myrtle trees are beautiful this time of year, reds, pinks, purples, whites. Saw a few deer on the way back and two running out of the campground when we got back on the island. We heard that they bed down right down the street from the campground in the evening. Danny, the camp host, only comes here on week-ends so we said good-bye to him and he told us we could stay as long as we want and if it's only a day or so, there's no charge. We might take him up on it.
Diary Photos
Diary Movies
---