Harry and Judy's RV Trip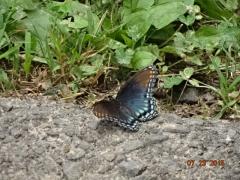 23rd Jul 2015 - Summer 2015
Day 53-July 23, 2015-Hot Springs, AR
Day 53-July 23, 2015-Hot Springs, AR
Drove 53 miles in 1-1/4 hours on I-30 and then US 70. Hot-96, humid-70%.
We got to Hot Springs around noon and went to Gulpha Gorge Campground right in the National Park. Sometimes National Park campgrounds don't have any hook-ups, are hard to maneuver around or are filled up by the time we get there. I called the visitor center to get info on this one because the campground books aren't always accurate, especially for state or federal campgrounds. The books I have said this one didn't have hook-ups but in a brochure I read it said they do. Seems they only have a few, and they don't take reservations, it's first come, first served. But seeing that we're early we got right in, found a beautiful, big, shady site right on a little stream and set up. With our Senior Pass it's half price, $15 a night.
We spent the afternoon reading and I finally finished the book. Hopefully I'll like the next one better. Found my way down into the stream in back. The water looks really cold and refreshing but I was surprised to find it's a bit warm. Big, beautiful butterflies like it. So do brown wren type birds and dozens of gorgeous cardinals. It's hot, but there's a nice breeze every now and then.
Waited around the campground and made a few phone calls. Thanks to one of our neighbors, we learned that our pool filter motor malfunctioned. We are so fortunate to have wonderful friends and neighbors to look after our home while we're away. Thanks especially to Ralph for finding the problem and meeting with the repairman not only once, but twice. Thanks also to John and Jen for helping us resolve the problem. Without great neighbors we either wouldn't be able to go away or come home to a green pool and who knows what else.
After dinner we drove about ten minutes into historic Hot Springs but most of the shops were closed. Passed a few steam jets coming from underground (we'll have to check those out tomorrow). Past Bath House Row, eight historic bath houses (have to check those out too), stopped in a winery where we got a taste of their only dry red, and then found ourselves ten minutes on the other end of town at Oaklawn Racing and Gaming. The horse racing is finished for the season, but the slot machines were ka-chinging like crazy. Very busy casino, just about every machine and table was occupied. We managed to lose the $10 free play they gave us.
Diary Photos
Diary Movies
---