Harry and Judy's RV Trip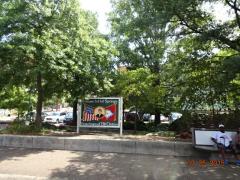 25th Jul 2015 - Summer 2015
Day 55-July 25, 2015-Last Day in Hot Springs
Day 55-July 25, 2015-Last Day in Hot Springs
Temp reached 100 by 11AM, but the wind picked up, clouds came in and it went down to 86 by 4PM. Much more comfortable, but threatening to rain.
Downtown was really crowded today, probably because it's Saturday. People everywhere. There's a little park in the middle of town with a stage and every time we go past it there's a different person playing a guitar. It must be some sort of public entertainment area. Oh, and did I mention this is Bill Clinton's home town. Bill Clinton stuff all over town. We went to Happy Hollow Spring Jug Fountain, a cold water fountain where the water comes down from the Zigzag Mountains instead of up through the ground. There are two cold water fountains in Hot Springs. People were filling up jugs of every size and dimension at this one and also at the hot water fountains. Saturday must be fill up your jugs day. Every spigot had a line. We only filled up a couple of water bottles, the back seat of the truck is filled with the jugs we got yesterday.
Went to a farmer's market on the edge of town but it had just closed. Once you get out of the historic section of town on either side the buildings are a bit run down or closed and the areas are past their prime. But there are new sections on the outskirts of town with all the stores and conveniences of any city. We found a car wash big enough for the truck then went to Wal-Mart to stock up again. I can't believe they sell bottled water here. There's water, water, everywhere! Why would people pay for it?
There was a lady in Wal-Mart giving out samples. Our conversation:
Her: Are you from Hot Springs Village?
Me: No, I'm from Florida
Her: What part?
Me: The West Coast, north of Tampa
Her: Oh, my sister used to live in a little town called Homosassa
Me: (Dumbstruck) Let me guess, in Sugarmill Woods?
Her: Yes, she moved to Tennesse and hates it. Wished she never left.
Very small world we live in!
Back to the RV to read and watch the birds and one psycho squirrel. Campground is busy, too. There's a big picnic area as you first drive in for day use and then a tenting area. They were both crowded. Lots of people on the trails too.
After dinner we went back into town. Busy place at night. We got an ice cream cone and sat on a bench next to a statue of Al Capone in front of the Ohio Club, open since 1905, a club he used to frequent. Walked a bit further and heard and saw some action at the Arlington Hotel. They had a band in the lobby so we stopped in for a few spins around the dance floor. On the way back there was a "parade" of trucks and motorcycles with Confederate flags making a hoopla and then a quieter "march" of flags in a little park in town.
Back to pack up for tomorrow…on the move again.
Diary Photos
Diary Movies
---