Sailng on Windwanderer.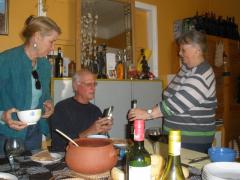 29th Oct 2015
Thursday 29th October 2015 back in Luderitz.
Thursday 29/10/2015
Well here we are back on Namibia once again, man so much has happened, over these last 3 months or so, and yes I know I'm slack and have not been able to keep up with my blog, but here's hoping I can get back into the rhythm of writing it daily.
Right at the moment it's 5.30 am and we are staying in a castle, we are the only ones here and I mean the only ones, all the staff left us for the night, it's a bit unnerving, I was expecting ghost or something to attack us through the night but all was quiet, thank god, but I'll talk about all that later.
So what's been happening? Well a huge amount.
After a whirlwind few days in Luderitz, we finally managed to hire a car, to get us to the Airport.
The day before we had lunch with David and Marcie at a lovely lady's house that they had met here.
What a lovely lady, her gardens were something to see, we spend a good chunk of the time walking around taking it all in, I think you need to look at the pics to see what I mean, it's hard to explain, I guess to some it would seem like just junk but to me it was fantastic.
She made us a lovely meal, and what was suppose to be just a few hours turned into late at night,many a bottles of wine was drunk, and if you know at all about sailing you will know we don't drink at all when we do passages, let's just say we were very relaxed and very very happy walking the streets back to the boat...haha
We left the boat early the next morning hoping like hell it will still be there when we get back, we had a local guy looking after it for us.
So the big journey through the Namibian Desert right up to Windhoek where we were to fly out, this took 10 hours and we finally found a nice b&b to stay the night.
The next morning we were up again early and off to the Airport we go, I'm always amazed at how different every country is, the desert was amazing and we enjoyed every minute driving through it, but man is it dry, I read that they only get 50mm of rain a year, not sure if that is true, but it sure looks like it.
The Airport here was the same, it was out in the middle of nowhere just sitting there with nothing else around no town no nothing.
The flight took only a few hours and we were back in South Africa, yeah we were really nervous wondering if they would let us back in, but we passed through customs with not a worry in the world, we must be still desirable...haha
We then took the long flight back to Australia, man it was a shocker I do not do flying real well, and being on a plane for hours on end nearly drives me crazy, I just want to get off The Captain is fine as he can sleep but not me.
We eventually reach Australia get through customs once again with flying colours, I was worried here because I did have a few things in my luggage that are not allowed in our country, but once again the old pirate comes out and got away with it...haha
We stayed at our kinda families house the whole time we were back, now let's see if I can get this right, The Captains, niece's husband's parents own the place and use it as a holiday home, they even gave us a lend of there car as well, all for nothing, it was fantastic, Thanks again Wendy and Neil, it was wonderful, of course we shared it on and off with his family but over all it was just great to have our own place.
Now the main reason we came home was because my girl was having her first baby, and to catch up with family and friends too.
Well I got to spend almost 6 weeks before the bub was due, to help out Bek as much as I could, oh man that first site of her with a big belly was great and she just looked fantastic.
We did have a few ups and downs but overall it was good.
Than the big day arrived, she was going to be induced as her blood pressure was going up slightly, twice a week I went with her to the docs to get checked out and we never knew if that day would be the day he would induce her, than it finally arrived.
She went into hospital the night before and we were expecting Bub to arrive some time late in the afternoon.
Well she was not waiting that long, our little Ava Rose, was born at 8.51am on the 22.09.2015, all 6lb 15oz of total cuteness.
Mum only had a 4 1/2 hour labour and all went perfect, Anthony rang me and I have to tell I was in total shock, I was not expecting her to arrive so early, he said because it was a private Hospital that we would not be able to visit till late in the afternoon, yeah right, they don't know this Grandma, how good does that sound Grandma...haha
We got dressed and went straight to the hospital, I was not sure if they would really let us in but I just wanted to be close by in case.
We get there and they said yes, that's when I laid eyes on my little granddaughter for the first time, oh man they tell you it's one of the best things in your life, to be a grandparent, but until she was laid in my arms, I never knew the raw emotions you feel, I was totally in love the moment I saw her and the feelings I had of such pride and joy for my girl Bek and Ant was just overwhelming, thank you so much guys for giving me a grandchild, you will never understand the joy and love you have given me.
Now I could write novels on this little one, she is just so so cute, she is such a little bundle of complete perfection, I have spend the last 5 weeks getting to know her and all her little isms.
She changes daily and I'm always amazed with how alert and strong she is, I have changed many nappies, dressed her, watched many a baths, played with her, had her sleep on my chest for hours, and have loved every minute of it, my heart just swells every time I lay eyes on her.
Of cause I have been doing the normal grandma stuff and giving Bek advice as much as I can, sometimes she listens to it sometimes not but that's all the normal new mum stuff, she has to find her own way on how to do what's best for Ava, and she is doing a great job of it, the proof is in Ava she is growing daily, of cause she is a typical baby and cries a lot, sometimes a real lot....haha
Bek and Ant decided that they needed a week with no visitors to try and get into a routine, this nearly broke my heart, I was not sure I could go a week without seeing her but as it happened I got sick with shingles again, yeah I know I was under a huge amount of stress, I actually got shingles for the first time about 4 years ago when we were in England and it was shocking the pain was unbearable at least this time it was only a mild case.
A few days recovering and I was feeling a lot better, we used this time to go visit with my parents, we actually got three stays with them which was great, the last one was when they were on holidays in a seaside place called Forster, two of my sisters and their husbands came up as well we had a really good time, us three sisters hung out and had some quality time together.
Of cause we caught up with all the family, we had some nice one on one with my boy Tim and met his new girlfriend Georgia and her little boy Ashley and time spent with my girl Maddy, I spent a great day at her house where we spent what was to take a few hours ending up taking all day making Ava a little dress, only for it to be too small and me spending hours trying to fix it, but I'm happy to say she wore it to a wedding and it looked great.
I spend some quality time with my best friend Lyn, it was not enough time but it never seems to be, we caught up with all the latest, we cried together, laughed together and it always feels like we have never been apart for months on end.
Of cause we caught up with The Captains family, his grandkids are growing so fast, although we only caught up with Georgie once and she was very shy with us to start with, she soon came around and to see how much she is growing is amazing, and then Little Isabelle, man is she cute, every time she saw her Grandad she would squeal with delight and do this little happy dance, it was so cute.
We had fantastic visits with Marian, Craig and Robyn and spent a lot of happy moments together.
We went up to the Trout Farm that The Captains, sister and brother in law own and had some good times there and also a quick visit from The Captains brother Rob and nephew.
All in all we managed to fit in almost everything we planned, but it just goes so fast before we knew it, it was time to leave, after saying goodbye to all, with many a tears shed, it was time to say goodbye to my little Ava girl.
It was really hard to say goodbye to the kids once again, and especially Bek, as I know she needs me in this moment of her life and has been depending on me for a lot of help and advice, thank god for Facebook and emails, but the hardest of all was saying goodbye to my little granddaughter, man it broke my heart, I was shattered and am still feeling that way.
(Maddy and Robin met us at the airport once again to farewell us. Thanks again guys it's always nice to be farewelled by family, I know the other kids would of loved to as well but it's always hard when you have other stuff on the go.)
Our other life was waiting for us to get back too, and with heavy hearts we left once again, it took over 20 hours of flight times, we were allowed in South Africa again, The Captain even asked if anything comes up on our passport and the guys says no you are still desirable and please come again...haha
Than back to Namibia where we have been doing a road trip and seeing lots of stuff, I'll write more on all our adventures soon.
I think this is enough writing for now, it really is starting to look like a novel...haha
Well tomorrow is another day.
Diary Photos
29th Oct 2015 Marcie David and Liz n Luderitz.
No Description
---
29th Oct 2015 Luderitz back yard.
No Description
---
29th Oct 2015 Luderitz back yard.
No Description
---
29th Oct 2015 Us on the Meg and Russ trout farm
No Description
---
29th Oct 2015 Isabelle
No Description
---
29th Oct 2015 Ava
No Description
---
29th Oct 2015 Bek, Ant and Ava at the wedding Ava is wearing the dress that Maddy and grandma made her.
No Description
---
29th Oct 2015 She is so cute
No Description
---
29th Oct 2015 Grandma cuddles
No Description
---
29th Oct 2015 Ava Rose born 22/09/15
No Description
---
29th Oct 2015 Robin and Georgie
No Description
---
29th Oct 2015 Ava and great grandma.
No Description
---
29th Oct 2015 Ava and great grandad.
No Description
---
29th Oct 2015 More cuddles
No Description
---
29th Oct 2015 Tim Georgia and Ashley
No Description
---
29th Oct 2015 Maddy holding up the dress
No Description
---