Sailng on Windwanderer.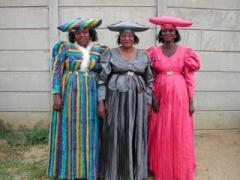 1st Nov 2015
Day 3 Namibia 1/11/15
Day 3
Sunday 1/11/2015
Well once again we set off early, this time we were on a mission to see the biggest sand dunes in the world at Sossusvlei, try pronouncing that one, and also the Seriem Canyon.
We knew we would most likely have to stay at a place over night before we got there as it was a long way away.
We got going and had only been driving for about 20 minutes, when we spotted warthogs on the road, now we are not talking one or two, there were heaps of them, we were being very careful as most were on the side of the roads.
We come down a bit of a hill and there is two right there on the road we slowed down some, but one decided he wanted to go on the other side of the road, no matter what we did we could not get out of his way.
We hit him on the front bumper, I was so upset, and wanted to stop, The Captain watched him in the rear view mirror, and said he did a few flips, some rolls and took off like lightning, man they are tough creatures.
Again I wanted to stop to check if we had done damage to the car, But once again The Captain said it was fine, we were going to the next town for breakfast, and we would check it then.
So we get to the next town get out to check the damage and we had lost a side panel off the grill, and a small dent
Man I so wish we had stopped, we went in and had breakfast and decided we would go back and see if we could find the piece, apparently it looked like it just clipped into place.
So off we set back again we drove very slow for what seemed like hours and eventually gave up, we could not work out how such a big piece would just disappear, after almost going right back to the first town we turned around.
We stopped often mainly at skid marks on the road and got out and looked around some, but with no luck, until eventually I spotted what looked like it could be it, we turned around I jumped out and sure enough we found it by sheer luck, but it was a waste of time, it was beyond repair, we kept it anyway, and worried about how much this was going to cost us to get fixed, we do have insurance on our Visia card that covers it so we were not too worried.
This had taken a fair chunk of our traveling time so we knew we would not make it to the sand dunes that day.
We had a pleasant drive all day and stopped along the way at a small town, where we noticed some interesting artwork.
A guy was carving tree roots into animals, I so wanted some, but they were huge and our boat is just not that big, but they were great, eventually we came to as close as we could and arrived at a nice little town on the waterfront called Swakopmund another one I cannot pronounce...haha
It's amazing how the temperature drops, we went from high 30° to about 17° and blowing a gale. It was freezing we were searching for jumpers, this was crazy.
As per usual the run around to find a place to stay. We found a really nice place right on the beach but knew it would be expensive but rang them anyway.
We were right, way out of our budget, but they said they had another place that had just opened that day, and would give us a cheap rate.
So off we go map in hands and drive to the next place, well not only had it just opened that day we were the very first visitors to stay...haha
It was very modern and clean, but once again single beds, we found a local pub down the road and had a lovely dinner, but we were rugged up, man it was cold.
Well tomorrow is another day.
Diary Photos
1st Nov 2015 This is a pic off the net, when we went into a local supermarket, there were woman dress like this.
They are from the Herero tribe and they live around this area.
---
1st Nov 2015 Image
No Description
---
1st Nov 2015 Desert
No Description
---
1st Nov 2015 Where the ocean meets the desert, if you look close in the right hand corner you can see the ocean.
No Description
---
1st Nov 2015 Broken car.
No Description
---
1st Nov 2015 Image
No Description
---
1st Nov 2015 Image
No Description
---
1st Nov 2015 You never know what may be on the roads.
No Description
---
1st Nov 2015 An elephant
No Description
---
1st Nov 2015 Giraffe
No Description
---
1st Nov 2015 Rhino, I think...haha
No Description
---
1st Nov 2015 Image
No Description
---
1st Nov 2015 Elephant
No Description
---