ScouseLeeM on Tour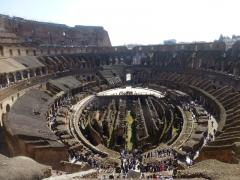 31st Mar 2015 - 1st Apr 2015
Rome
I found these photos lurking on my camera some time after this trip, so uploading for posterity..
Avoiding the blistering heat of summer, this trip provided a little relaxation, plus teh chnace to strike off another of my bucket list items (actually several items that I combined into one, inlcuding Pisa and Pompei).
Really can't remember many details now, but I know we stuffed our faces with pizza and gelato of every possible flavour under the sun. A tour of the colliseum including the 'basement' where gladiators and animals were kept, and the Vatican, despite my highly non -religious views, were the initial highlights. Basically we did all of the typical tourist highlights, if I'd written a blog at the time I'm sure I could recall more. Anyway, more of my 'Italy' bucket list item to follow...
Diary Photos
1st Apr 2015 No Title
No Description
---
1st Apr 2015 No Title
No Description
---
1st Apr 2015 No Title
No Description
---
1st Apr 2015 No Title
No Description
---
1st Apr 2015 No Title
No Description
---
1st Apr 2015 No Title
No Description
---
1st Apr 2015 No Title
No Description
---
1st Apr 2015 No Title
No Description
---