Sailng on Windwanderer.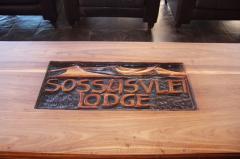 3rd Nov 2015
Day 5 Monday 3rd November 2015
Day 5
Monday 3/11/2015
Well did I say it was peaceful and quiet, well it was until, a sand storm started sometime in the night.
Now if any of you have been camping before you would understand how a tent behaves in wind.
It flaps, it bangs, it moves, the wind howls around it and to add to this delightful experience you have sand blowing hard up against it.
Serious who thought this was a good idea to have a half tent/ half building for a 5 star resort.
Let's just say there were two very grumpy people in the morning with very little sleep.
Breakfast was Inside thank god, but it did little to keep the sand and dust out of the food, coffee etc.
We could not get out of there quick enough, little did we know this wind was going to blow all day.
The first thing we wanted to see here was Seriem Canyon, the Canyon was formed millions of years ago, it's only about one and a half kilometres long as it approaches the sand dunes, and It actually sometimes has water in it, but today was not one of those days.
We drive up to it and watch a few brave souls battle the wind and sand blowing, they have scarves around their heads to keep the sand out, seriously they looked like something out of Lawrence of Arabia.
I looked at The Captain and said you got to be kidding, but he so wanted to go look at the Canyon, so I step out of the car and get sand blasted straight away.
Jump back in and go searching in our bags for something to wrap around my head.
So looking completely stylish with one of The Captains tshirts wrapped around my head we set off.
Was it worth the hassle? I guess so, although not a big canyon, it sure was impressive and climbing down to the bottom, there was less wind there so that helped.
We finally get back to the car shake off the sand, and head off in search of the elusive sand dunes.
Along the road we spotted some brave kudu, and Springbok and a few ostrich wandering along not seeming to be worried about the sand blowing at all.
We saw some really impressive sand dunes and the colours were amazing, they ranged from, Ivory, yellow-gold, pink, orange to deep red- brick.
The dunes are said to be the highest in the world and in the oldest desert in the world, they can be over 350 meters high, they are often referred to as Star Dunes. A formation that can only be seen from the air, and if your brave enough you can do a hot air balloon trip over them.
Haha...would love to watch the balloons flying in this wind.
Now we get to the end of the road and it says in the little guide book that the last 300 meters can only be completed by four wheel drive or on foot.
Originally we were just going to walk the last few meters and take it all in, well that went out the window real fast, the wind here was blowing so strong we could hardly keep the car on the road. And the sand oh man, we both agreed that enough was enough, we had not seen all the dunes but what we did see was enough to leave an impression.
Our next adventure was to stay over night in Duwisib Castle, it was a long dry dusty trip there but we eventually found it, booked our room had a look around and then both of us had a nana nap...haha
Well tomorrow is another day.
Diary Photos
3rd Nov 2015 Image
No Description
---
3rd Nov 2015 Image
No Description
---
3rd Nov 2015 Image
No Description
---
3rd Nov 2015 Image
No Description
---
3rd Nov 2015 Image
No Description
---
3rd Nov 2015 Image
No Description
---
3rd Nov 2015 Image
No Description
---
3rd Nov 2015 Image
No Description
---
3rd Nov 2015 Image
No Description
---
3rd Nov 2015 Image
No Description
---
3rd Nov 2015 Image
No Description
---
3rd Nov 2015 Image
No Description
---
3rd Nov 2015 Image
No Description
---
3rd Nov 2015 Image
No Description
---
3rd Nov 2015 Image
No Description
---
3rd Nov 2015 Image
No Description
---
3rd Nov 2015 Image
No Description
---
3rd Nov 2015 Image
No Description
---
3rd Nov 2015 Image
No Description
---
3rd Nov 2015 Image
No Description
---
3rd Nov 2015 Image
No Description
---
3rd Nov 2015 Image
No Description
---
3rd Nov 2015 Image
No Description
---
3rd Nov 2015 Image
No Description
---
3rd Nov 2015 Image
No Description
---
3rd Nov 2015 Image
No Description
---
3rd Nov 2015 Image
No Description
---
3rd Nov 2015 Image
No Description
---
3rd Nov 2015 Image
No Description
---
3rd Nov 2015 Image
No Description
---
3rd Nov 2015 Image
No Description
---
3rd Nov 2015 Image
No Description
---
3rd Nov 2015 Image
No Description
---
3rd Nov 2015 Image
No Description
---
3rd Nov 2015 Image
No Description
---
3rd Nov 2015 Image
No Description
---
3rd Nov 2015 Image
No Description
---
3rd Nov 2015 Image
No Description
---
3rd Nov 2015 Image
No Description
---
3rd Nov 2015 Image
No Description
---
3rd Nov 2015 Image
No Description
---
3rd Nov 2015 Image
No Description
---
3rd Nov 2015 Image
No Description
---
3rd Nov 2015 Image
No Description
---