Sailng on Windwanderer.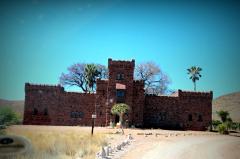 4th Nov 2015
Day 6 Tuesday 4th November 2015
Day 6
Tuesday 4/11/2015
Well here we are in the castle, we had a very nice quiet sleep and when I mean quiet it sure was, it just so happens that we were the only ones in the castle the whole night.
This kinda freaked me out some, I was so sure we would see some ghosts through the night, but all was quiet.
After our nana nap, yesterday we explored the castle some more, the interior showcases the original furniture, artworks and firearms used during the beginning of the 20th century, so yeah it's not a real old old castle, but still impressive.
The story goes that, the late Hanshelnrich von Wolf and his wife Jayta, she was born in the USA and when they met (she was a millionaires after inheriting a fortune from her grandfather.)
They chose Namibia as their new homeland in 1907 when they bought the farm Duwlsib from the treasury and additional land their farm comprised of 55 000 ha.
The castle was completed in 1909 he was 36 and she was only 27 years old.
They lived in the castle from 1909 to 1914 he bred horses from imported Australian and British stock. He also owned cattle and sheep. ( the desert horses that you see here and there today, are thought to be most likely descendants from these horses)
During 1914 the von Wolfs left for England to buy another stallion for their stud. While at sea they learnt of the outbreak of the Great War. The German liner they were sailing on had to find sanctuary at Rio de Janeiro, where they were interned.
After some months they were released and found passage to Europe.
Hanshelnrich joined the German forces and 14 days later he died.
Jayta stayed in Munich and remarried moved back to America after the war and never returned or laid claim to her property or castle.
During 1920 the farm was sold to a Swedish family, by the name of Murman.
Mr Murman, died suddenly in the castle,( hence the ghost) and his son who is thought to have been a South African Air Force pilot, was shot down during Workd War 11
It was then sold to the Thorer Group who used it as farmhouse for their manager until 1979, when the Government bought the castle to be kept as a National Hertiage.
As we were walking around we noticed a wardrobe and a chest that were locked, we asked one of the staff about these and she told us they had never been opened, as the keys were lost.
I could not believe they had never tried to open them, I offered to open them for her and share the booty, she just laughed.
It was fairly obvious that they don't get many overnight visitors, they only have 6 rooms available, but most of the visitors just come to look around, and have a meal here.
We had the pick of the rooms and was informed that they would cook us dinner than we would be left to fend for ourselves, at first I didn't think they were serious, but they said yes tonight you are The Baron and Baroness...haha the staff were fantastic and fun.
It really was quite something to be there all by ourselves, something else we can cross off our bucket list.
But we still had one more thing on our list to see, The Fish River Canyon, so with a fond farewell to the staff a few pics taken we set off once more.
Well tomorrow is another day.
Diary Photos
4th Nov 2015 Image
No Description
---
4th Nov 2015 Image
No Description
---
4th Nov 2015 Image
No Description
---
4th Nov 2015 Image
No Description
---
4th Nov 2015 Image
No Description
---
4th Nov 2015 Image
No Description
---
4th Nov 2015 Image
No Description
---
4th Nov 2015 Image
No Description
---
4th Nov 2015 Image
No Description
---
4th Nov 2015 Image
No Description
---
4th Nov 2015 Image
No Description
---
4th Nov 2015 Image
No Description
---
4th Nov 2015 Image
No Description
---
4th Nov 2015 Image
No Description
---
4th Nov 2015 Image
No Description
---
4th Nov 2015 Image
No Description
---
4th Nov 2015 Image
No Description
---
4th Nov 2015 Image
No Description
---
4th Nov 2015 Image
No Description
---
4th Nov 2015 Image
No Description
---
4th Nov 2015 Image
No Description
---
4th Nov 2015 Image
No Description
---
4th Nov 2015 Image
No Description
---
4th Nov 2015 Image
No Description
---
4th Nov 2015 Image
No Description
---
4th Nov 2015 Image
No Description
---
4th Nov 2015 Image
No Description
---
4th Nov 2015 Image
No Description
---
4th Nov 2015 Image
No Description
---
4th Nov 2015 Image
No Description
---
4th Nov 2015 Image
No Description
---
4th Nov 2015 Image
No Description
---
4th Nov 2015 Image
No Description
---
4th Nov 2015 Image
No Description
---
4th Nov 2015 Image
No Description
---
4th Nov 2015 Image
No Description
---
4th Nov 2015 Image
No Description
---
4th Nov 2015 Image
No Description
---
4th Nov 2015 Image
No Description
---