Sailng on Windwanderer.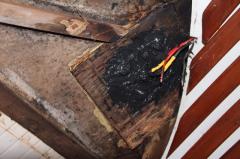 23rd Nov 2015
Luderitz Tuesday 23/11/15
Luderitz
Tuesday 23rd November 2015
Well we are well and truly back in boat mode again.
It sure took some getting used to, I tell you, not only was this boat in such a sad state, there is also a lot of movement in this here harbour, and man have we been sea sick.
It took days and days to get just the inside of the boat clean, stupid me thought we had seen the last of the dust and sand, but hell no, I think there was more here on the inside of the boat then any we have seen before.
Even though we had thought we had sealed the boat up very well before we left it still managed to get inside and over everything, serious we might as well just camped out in the desert itself, ( well not quite but it did feel like we were.)
I was actually horrified, as I hate a dirty boat, it took days to get it right, well until I was satisfied it was right, than onto the outside.
We have a seawater hose that does not work, in all honesty I'm not sure it has ever worked, I know I dream about it working, and The Captain has tried several times to get it working, but it's always too hard and gets put on the back burner.
Well we really need it working, serious, when I said the inside was bad, the outside, is ten times worse, so plan C, as plan A was to use the seawater hose, plan B was to use the fresh water hose, ( yeah right with the water Nazi on board here I had no hope in hell of using that one...haha)
In all fairness we are having problems with the water maker surprise surprise, and I would rather have a shower than use it to clean the decks, but only just...
So plan C is to bucket up seawater and throw it onto the deck. Yeah it's not a good plan C but it's the only one we have left.
So the first time I washed the windows and cockpit cover this way, I soon got over that real quick. The 2nd and third time The Captain helped, only just a tad better, but we did managed to get some of the sand and dust off.
But serious I have never seen this boat look so bad, it's caked on everything from the deck to all the rigging, we know there is no way we can get it all off, unless we have some rain, well that's not going to happen, they only get about 50mm of rain a year here and so far we have seen none of it. (Remember how often I complained about the rain....haha I would give anything for it to rain right now.)
We do know that once we are back out sailing again the waves will wash a lot of it off, so that's something I guess.
But it still had not stopped me from trying, until a few weeks ago, after cleaning the dust about a million times inside and out, I have given up for awhile.
We have been having these huge wind storms and it just blows everything back in again, it's shocking, they last for days and you have no hope in hell of stopping it getting in, we end up breathing dust, eating dust, drinking dust, sleeping in dust, I even got to the stage once that I was wearing socks cause I could not stand it between my toes, Yeap it's that bad.
Talking about the wind storms, it blows like you would not believe, we had no idea how hard it was blowing, as I turned on the auto pilot the other day to check the wind speed and Yeap another thing not working, so out come the manuals and after some pirate language and temper tantrums I finally got it fixed, and while I was at it, I managed to get the alarm on the depth sounder turned off as well, this one has been driving us crazy for months, somehow I managed to set an alarm on the depth sounder and every time the water was below 30 meters it would go off, it drove us nuts, but at least they are all working good now, and the wind speed, well it gust up to 50 knts.
We watched a new yacht come in the other day, actually it was when the first big wind storm happened, and we noticed they were having problems anchoring and looked like they were dragging, we hopped on the two way radio and called them up to see if they needed a hand.
Well this started a back and forth convo with port control, they thought we were dragging and needing assistance, eventually we got them to understand it was not us but another boat, and we told them we would go offer assistance.
So being the good little Samaritans that we are we hop into the dingy and go over, big mistake, in 5 seconds flat we were drenched to the bone and very very cold.
The boat was actually from Hobart, and he was a solo sailer with two crew with him as they sometimes do. We told them about the mooring next to them that was a lot stronger and all was well.
But that little adventure stopped us from going anywhere in the dingy when the wind blows from then on, so we have been holed up here a lot, I tell you, it's miserable when it blows and who wants to get wet all the time.
But when that wind stops it's like a whole new planet, it's lovely we even managed to have an evening meal out on our new alfresco dining area, that cost us an arm and a leg, and have used it about three times in total...haha
We have not been to shore a great deal, but enough to get to know the town and people, we have had many lunches at a little cafe here on shore and have enjoyed wandering around here and there.
While we have been on board we have not been idle, we have managed to get almost all the repairs done.
We have all the nav gear working again, including a repair on our laptop, a local guy here called Lucky, fixed this for us, and also fixed one of our phones when a SIM card decided to jam in it and then broke a metal thingy in it.
But now we have the AIS back up and running and the chart plotter is working good.
The next was the water maker, this has been a huge problem here in the harbour as there is always so much muck in the water from sand and stuff, and it wrecked our filters and pump head, so we had to order new filters and a head from South Africa, and as I speak they are suppose to be delivered here today in Luderitz.
We are not using the water maker anymore while we are here, so the poor Captain, makes many trips to shore. ( when the wind stops blowing) and fills up a Jerry can at a time to top up our tanks.
I have actually lost count on how many times he has done this, but I'm sure he could tell you...haha
The next big issue was the alternator on the main engine, well we have had a local guy called Heinz out here many a times and The Captain and him going back and forth until they ended up getting a brand new alternator and now we have a very happy engine that is powering up the battery's just perfect.
Onto the generator this was a big deal, as you know we always have problems with it, well after days of The Captain pulling it apart, pirate language flying, a new part replaced, it is now very happy too, it runs smoothly heats hot water charges the batteries as well and all is good with it again.
Then the most exciting thing of all, ( well for me anyway) we have no more water leaks in our cabin, Did you just hear that, after years of mopping up, cursing every time it rained, we have a dry cabin.
Now we have tried for years to fix these leaks, and with everything on the market, and asking many a fellow yachties, who all have their own idea on how to fix it, you do get some who look at you, with a dumb look and say water leaks, what's water leaks, we don't like these people...haha
If you remember back in Simonstown in South Africa. When we had a lot of that thing they call rain, we took down the back lining in our cabin to work out where the leaks were coming in. It was in such a mess and all the timber was very wet, we decided to leave the lining off until we came back from Australia, for the timber to have a chance to dry out.
So we decided the day had come to fix this leak once and for all, well it's taken many days, we started with The Captain pouring water on the deck and myself laying in our cabin with a torch to identify, where it was actually coming in.
Then we sealed that area, waited a few hours than repeated the whole process.
This went on for several days, back and forth more sealer more water, sealing the bottom and on the deck, until eventually it stopped running in yay.
And what was the product that worked, well it was called The Works...haha serious we got a few tubes of this in South Africa and it actually worked.
The job does not look pretty but once the lining goes back up you will never see it, so after years of wet beds and miserable nights we finally have it fixed, now to wait and see when we eventually get rain how good it really works.
We do have one small repair to do, with all this wind blowing it actually broke our man over board pole, it's a pole with a weighted end and a float and orange flag on top, it's tied to a life ring and floating light.
The idea is that if someone fell overboard you throw all this over and they have a chance to see it and swim to it, also you have a better chance of seeing the person in the water with it as well.
It's a vital piece of safety equipment and we wouldn't think of going out to sea without it.
So after hunting on the net, to get a new one and all being too hard The Captain has decided to fix it himself, it's still ongoing.
Well tomorrow is another day.
Diary Photos
23rd Nov 2015 Not pretty but no leaks, and the lining will cover it.
---
---
23rd Nov 2015 View from the boat, Luderitz.
---
23rd Nov 2015 Broken man over board pole.
---
---
23rd Nov 2015 Our little cafe.
No Description
---
---
---