Sailng on Windwanderer.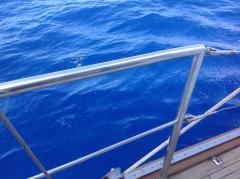 8th Dec 2015
Day 6. 8/12/15
Tuesday 8th December 2015
Day 6
11am
Position 21°21'S, 04°38'E
And almost half way, we have around 771nm to go.
Oh man it has been a busy morning, after another rough sleep, we were rocking all over the place and I swear if I heard that sail flap one more time I was going to scream, man it felt like it was flapping all night long.
Grumpily I look over at The Captain and he said yeah we need to come about, ( change the sails to the over side) well not before my coffee.
So coffee done, we set about changing these sails, just before we did this I checked on the chart plotter, and Yeap we sure did need to change we were heading to Brazil, I think Rio.
So after a really easy change of sails we are now heading back to St Helena, although we have zero wind it may take us a bit longer to get there.
After this little excursion, I decided it was time to do some cooking, as things were looking a bit lean around the place.
Well three hours later, I had cooked breakfast, a quiche for lunch and dinner, and our bananas were starting to look sad so, banana and chic chip muffins. Oh and I have to mention The Captain helped with the muffins he mixed the flour sugar and butter, while I did other stuff, he actually had no choice, I landed up here with the bowl full of ingredients and plopped it in his lap.
I was still not finished, as the sun has finally come out, this was my opportunity to do some clothes washing.
Now to do our washing is also a team effort and takes a bit of planning, I have to wait till I have enough water in the bucket, this we do with a bucket in the shower, and catch the excess water while we wait for the hot water to run through.
Then we make sure the water maker has made enough water for a quick rinse.
How it goes down, I strip off to have a shower, hand wash the clothes in the bucket, rinse them with the excess water, than have my shower, get dressed then bring them to the bottom of the stairs,The Captain carries the bucket up the steps, than he is the wringer he leans out the cockpit and wrings the water out.
Meanwhile I'm tying up the rope outside and than string the clothes one at a time on the rope, The Captain than ties off the other end of the rope, while I'm pegging everything in place, all the time doing the time warp, ( it's just a jump to the left and than a step to the riiiight) yeah it was a bit rocky, Pun intended....haha
We then climb back in the cockpit both totally exhausted, life's not easy out here sometimes.
But you have a lot of specials moments too, even little things, like the colour of the water, it's actually changed this morning from a deep navy blue to a real cornflower blue, so The Captain calls it, me, just a brighter blue.
And our little vessel is happy, she is singing once again, and no we are not going crazy out here, if you remember I have mentioned this a lot, when the boom is at a certain angle with the wind blowing, it hums and sometimes sounds actually like music.
And we have been hearing voices again, we have no idea what this is, it often just sounds like someone calling out, we both hear it, but at different times and a lot of other cruisers hear it too, although sometimes a fair amount of alcohol, goes down before anyone mentions it, but once the subject comes up you see the relief in a lot of faces as we all kinda think we are going crazy...haha
11.30pm
Am still on watch, what am I watching? Well a series called the Last Resort, it's ok I guess something to pass the time away.
At the moment we have about 10kts of wind if we are lucky and our speed is about 4knts, yeap we are not going very fast at all.
It's a bit of a rolly ocean tonight so with little wind the sails are flapping about a fair bit, I've tried changing our coarse a fair bit, but it's not doing a great deal, oh and I am keeping a watch on the radar and stuff too.
We have another problem with the generator again, it drives us nuts, when we are on anchor it works perfect, but once out at sea it has all kinds of problems, although the first 5 days it has worked perfect.
The Captain has had it all pulled apart once today, but has not solved the problem yet.
Tomorrow he will try again.
But the alternator is working again, why? No idea it just started charging the batteries once again, this was one hell of a big relief, with the generator playing up we sure need something to keep the batteries charged.
Well tomorrow is another day.
Diary Photos
8th Dec 2015 Image
No Description
---
8th Dec 2015 Image
No Description
---
8th Dec 2015 Image
No Description
---