Sailng on Windwanderer.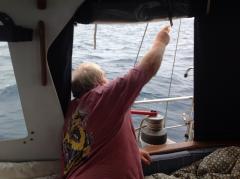 11th Dec 2015
Day 9. 11/12/15
Friday 11th December 2015
Day 9
9.48am
Position 17°49'S, 02°43'E
Well I was up before sunrise today, why? who knows, I was awake looked over at The Captain who really looked like he needed sleep, so we changed over.
I though I would at least see my first sunset in awhile, and nope, it is so over cast that all that happened was it got lighter, that just sucks.
We have done a dog leg and are now heading back towards St Helena, thank god, but we had a bit of a wild ride before we changed all the sails to the other side, let's just say it got a bit out of hand and I had to wake The Captain up, I hate doing this, but the wind had picked up big, we were flying and the Autopilot was not coping.
I have horrible memories of previous passages when we have been in similar situations and I know if " Aut "goes a-wall, in these kind of conditions it gets ugly real quick, lucky that didn't happen.
11.30 pm
Well after a very calm no wind day, let's just say it's a bit lively tonight, even though we have only reached gusts of 18kts it feels like a lot more.
We are bouncing all over the place, I keep having to adjust our course all the time.
I'm really tired at the moment as I never got a sleep today, why? I have no idea I did try but it just didn't happen.
So I'm going on about 4 Hours sleep for the whole day, I'm trying to stay awake till midnight so The Captain can get some decent sleep.
We had a few more flying fish on board today a total of three and also I saw a small pod of little Dolphins, I had forgotten these small ones, we have not seen any of these type since we had been in the Caribbean, and something blue in the water like a sheet of plastic and a small orange buoy, I know this sounds a bit lame, but when you see nothing but water for days on end, it's kinda a highlight to see anything different.
Also today we did our message in a bottle, this is something we try and do on each voyage, we write on the back of one of our boat cards, the country we are going and leaving from our position and date.
So far only one has been found washed up in the coast of Africa and a lady emailed us and told us where she found it.
I still think it was pretty cool.
Well tomorrow is another day.
Diary Photos
11th Dec 2015 Image
No Description
---
11th Dec 2015 Image
No Description
---
11th Dec 2015 Image
No Description
---