Sailng on Windwanderer.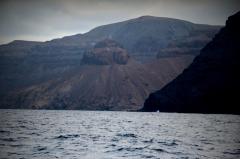 16th Dec 2015
Day 14. 16/12/2015
Wednesday 16th December 2015
Day 14
7am
Position 15°54'S, 005°12'W
Land ohoy!
Yeap we can see land, just a little if you look real hard you can just make it out on the horizon..yay
In the early hours of this morning the wind picked up some and we were making good progress, just in the wrong direction...haha
The way we were going we would of missed St Helena completely, so we came about ( that's put the sails on the other side) and now we have St Helena directly in front.
All was going good until the wind dropped again, why are we worrying so much about our speed now?
Well we want to get there before dark if possible, if not we may spend the night out here and come in, in daylight tomorrow.
We actually have a bit of a standoff here, there is no way I'm going in in dark, and The Captain has a different view to me.
So he is doing everything to make us go faster, the stay sail is now out, so we have 4 sails out, and now he is talking about getting the rabbit out, I'm praying for more wind, I hate getting that sail out, not only is it ugly and embarrassing it's just a pain in the arse to get up and down.
If you recall from previous rantings of mine you will understand it all, serious it's nothing but a nightmare.
7pm
And we are here, and we both hate this freaking boat, well almost we have just had a very strong drink and after not having any alcohol in 14 days, let's just say we kinda like the boat again but just a tiny bit, she really needs to up her game seriously.
After 14 days at sea, 1408nm with such a good run, yeah I know a lot of stuff broke down and we stressed about it, but it really was the best crossing we have had in regards to weather, no storms no rain, no huge seas, no big winds, my kinda sailing.
That was until we rounded the last cliff face of this massive island well it's not that big really, but it rises up very high into the sky with fantastic landscape.
So we ring port control and they welcome us and tells us to pick up a orange mooring, we need that one for out weight.
We spot one that looks ok, I was a bit anxious as I had to go into cowboy mode, and kind of lasso a rope around the buoy, The Captain had already tied the rope to the boat.
So The Captain gets close to the buoy, I'm hanging off the bow Sprit and call out to The Captain that the rope is not long enough. He calls back that it has to be, I then realise that the boat in front of us has the back of their boat tied to it.
So I drop my rope and race back to the cockpit to tell The Captain, and he is as pale as a ghost, he looks at me and says we have no steerage, oh man, I think I turned grey right then and there, panic mode set in as we are slowly drifting towards the cliffs and no way out.
I'm yelling to drop the anchor, even though I'm not sure that it would work, there has to be a reason why your not allowed to anchor here.
It was a horrifying 10 minutes or so and then we spotted a boat going by, we call out to them and they come over to help, what nice guys they were, in no time at all they had us tied up to the Orange buoy and then a stern rope to one behind, apparently that's how they do it, here.
We could not thank them enough, we just sat and I have to say I was so close to tears, we made ourselves that stuff drink and all kinda feels ok again.
I just looked out and they have a Christmas tree right on the base of a cliff with all the lights glowing, aww our first Christmas lights, and on that note I'm signing out to go and sleep in a real bed for a change.
Well tomorrow is another day.
Diary Photos
16th Dec 2015 Image
No Description
---
16th Dec 2015 Image
No Description
---
16th Dec 2015 Image
No Description
---
16th Dec 2015 Image
No Description
---
16th Dec 2015 Image
No Description
---