Sailng on Windwanderer.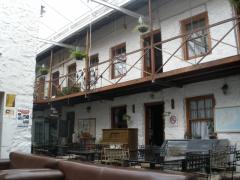 18th Dec 2015
St Helena Friday 18/12/2015
St Helena Friday 18th December 2015
Well today was another day on shore, it was supposed to be a quick visit, but as usual our plans never go to plan.
I was very anxious to get onto the Internet, as I said yesterday it's a bit of a adventure to connect, we can still get sailmail on board, but only from about 8pm at night for a few hours.
My son Tim had to have another cornea transplant, the last one was going good until he got an infection in that eye, and basically it ruined that cornea.
I'm not sure if you remember me talking about it last time, but he did not do real good under anaesthetic and ended up in intensive care for awhile.
It had been 24 hours since I had heard anything and was extremely worried, I had sent emails and messages and had no reply from anyone, and after a sleepless night, we were up early and went to shore as soon as possible.
I finally got connected to the Internet and there were all the messages and he was fine, thank god, and Yeap my kids. I did sit there and cry.
The op went really well and now it's just a matter of playing the waiting game and see how it goes over the next few months or so.
Times like this is when it's so hard being away from my kids, when they are sick or upset over life's problems it breaks my heart not being able to be there for them, I so wish there were two of me, one to live this life and one to be back home with my family.
So our little excursion on land ended up being a long day, there are always people stopping for a chat, we met a couple in the supermarket who were total strangers, they offered to help us with anything we needed and even to stay at their place if we wanted to get off the boat for awhile.
The guy who helped us tie up our boat stopped his truck in the middle of the road for a chat, just to make sure we were ok.
One of the ferry men helped us find a grocery store and where in the world would a customs officer download a heap of Christmas songs onto a USB for you? after asking him if he knew the name of the cd they played last night at the festival.
In a few minutes he had his son downloading them and said if we come back around 1pm he would have it there for us.
We were blown away by this, and when we downloaded it onto our computer there must of been about 8 albums on there.
Now we are not talking here about such a small community, well I guess it is but they still have around 5,000 people living here, we just can't get over how friendly everyone is, and it's so real, they are not out to make money out of you, they just want to help, I guess we have been so used to Africa where they always want tips for helping you, which is fine as they don't have much money, but here they just go way beyond helping and they do it because they want too.
This place really is old fashioned in a lot of ways, there is no late night shopping, Wednesday's they close half the day, most shops on a normal week day start closing around 3pm I'm not sure about the weekends yet, but I would be surprised if they are open at all especially Sundays.
They have about 4 little grocery stores but some smaller shops sell a few groceries as well, there is a pub, a few Cafes a bank and about a dozen or so other shops that sell anything and everything.
We went on the hunt for some salad ingredients, talk about a challenge, we were told by the customs officer that it's a bit like, you can get lettuce Monday, cucumbers Tuesday and tomatoes Wednesday...haha
It actually is a bit like that, but we managed to get lettuce, tomatoes and bread, that's it, no fresh milk, no mushrooms, and after a through search of all shops the only avo we found were a few really sad ones, we decided we were lucky to get what we had.
I think the trick is to get in early in the morning and we may have better luck.
They do grow a few things here on land but most is all shipped in, by the ship RMS St Helena, it comes around about every 4-6 weeks, it's actually the last Royal Mail ship still running.
It runs between St Helena, Ascension Island and South Africa, it usually takes about 5 days to get from here to South Africa, they import most food from South Africa, and a lot from England as we recognised the brands.
It came in yesterday and the place is a buzz of activity, it carries mainly cargo but they also have space for a certain amount of passengers. One local here told us it was booked out till, August.
This is their only mode of transport off the island, they now have an airstrip, which we thought was up and running, but was told by a local that it did not past the last inspection, and they have no idea when it will be working.
The ship only stays for about two days and it is anchored just off shore, they use cranes and barges to bring everything to shore and we are talking everything, from cars, food, furniture white goods you name it they have it, some just on pallets and others in shipping containers, cranes lift two containers at a time onto the barge then it comes to shore were a huge crane lifts it onto the dock, this goes flat out for two days and it's a massive operation.
We often saw very excited people waiting to open up their containers, or to receive there mail/ parcels.
It's a strange life they live, but they all seem happy and are proud of their island, I saw a group of teenagers drinking cans of Coke then crushing them and walking to a garbage bin and putting them in.
The other night, we were having dinner at a little outside pizza place, and I watched a group of maybe 20-25 years olds all chatting away and laughing and such, having a few beers, and suddenly it hit me that not one had a mobile phone they were just enjoying each other's company.
Talking about phones a guy gave us his number yesterday and I had to laugh, his home phone and his mobile only had 5 digits ...haha
We really are enjoying the layed back life here so much.
Well tomorrow is another day.
Diary Photos
18th Dec 2015 Image
No Description
---
18th Dec 2015 Image
No Description
---
18th Dec 2015 Image
No Description
---
18th Dec 2015 Image
No Description
---
18th Dec 2015 Image
No Description
---