Sailng on Windwanderer.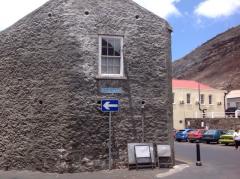 21st Dec 2015
St Helena Monday 21st December 2015
St Helena
Monday 21st December 2015
Well today was another day onshore, no matter how we try we always end up having spent hours onshore, today was no different.
Today as we wandered up the hill we decided to look in each shop as we went along.
We were on the hunt for a extra Jerry can, as are water maker is not running real good, The Captain has a few more tricks up his sleeve, to fix it, so that's ongoing.
But meantime we need a bit more water, so with an extra Jerry can we will be able to fill up two each time we come to shore, this is not ideal but it's better than running out of water I tell you.
We also looked into the various grocery stores as well, still looking for those avo's and and a few bits and pieces.
Gone are the days we could just walk into one and get everything you needed, not here, you can get lettuce in one, tomatoes in another, ham in the one across the road, and bread in Star grocery.
Talking about bread, man was that a mission, we go to star and no bread, they said it will be ready soon.
Walk up the street and we finally find a Jerry can and I swear the only one on the island and we almost had to sell our souls to buy it, man was it expensive.
So we stop back at Star, still no bread in, this went on for a long time many drop ins no bread, went and visited our local pub for wifi, come back still no bread, this was getting a bit beyond a joke.
If the bread wasn't so nice we would of just went without, but they promised in half an hour it would be ready.
I think we looked in every store on the island waiting for that bread, we wandered all around, and then finally came back to Star and guess what still no bread.
But it must of been close, there were a dozen or so locals waiting now as well, I could see a stampede happening the moment it came out the door.
We waited and waited, I went and looked in a few more shops, and finally it came out The Captain grabbed two small loafs and we were set.
I can't believe we waited over two hours just for bread, man the things you do for a bit of luxury, and it is, I know I make bread on the boat all the time, but any cook will tell you the best food you eat is when someone else cooks it for you...haha
And the Avo's well we were told the sad truth today, there are no more on the island, they won't get any till the RMS comes back from Cape Town, in about 4 weeks, was truly a sad sad day.
Well tomorrow is another day.
Diary Photos
21st Dec 2015 Image
They have two streets in town one is the Main Street and the back way.
---
21st Dec 2015 Image
Wall full of videos to rent.
---
21st Dec 2015 Image
DVDs" and videos
---