Sailng on Windwanderer.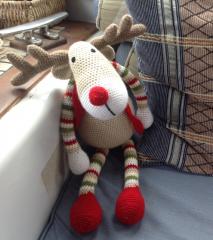 24th Dec 2015
St Helena 24th December 2015
St Helena Thursday 24th December 2015
Well it's Christmas Eve, and I feel crappy, I have had next to no sleep.
It was a very rough night we are rolling from side to side like you would not believe, we have to be careful how we walk, be careful were we put things and are bracing ourselves all the time.
So many times I was up through the night, not only is it uncomfortable, and I'm worried I'll fall out of bed, I was also concerned that our ropes would let go of the moorings and we would end up smashed against the cliff face.
One of the many visits on deck to look around I noticed we had lost one of our fenders.
We have two of the large ones tied on either side of the ladder so when the ferry comes to collect us they won't do any damage to our boat.
With this one gone we are left with only two large fenders as our other one has a hole in it and needs replacing, we also have two smaller ones that are not much good for anything.
In the morning I had a look around and could see it washing up against the rocks onshore, but it did us little good, it's still way too rough to launch the dingy and besides it would be a death trap to get that close to the cliffs.
Well so we thought. We needed to get to shore again and when Johnny came to get us we climb in, kinda fall in the swell is still really bad, we tell him about our fender and that we can see it, he looks over and said lets get it.
Yeah I was freaking out, as we are going flat out towards the cliffs, but as luck had it, the fender washed out a bit and The Captain grabs it just as Johnny swings the boat away from the rocks, man another new best friend...haha
Normally we would never dream of going ashore in this kind of conditions but as the Ferry service will not be running tomorrow this was our only chance to ring home for Christmas and we needed to get in early for the time zones and the ferry was only working half a day today as well.
As we get closer to the dock Johnny says to be careful stepping off the boat, as its rough, well we round the corner and talk about an understatement, man it was shocking.
I was first to step off, I gauged the swell grab the rope swing like Tarzan one foot on the dock and loose my balance, well there were guys on shore running towards me, somehow I managed to swing a bit more and finally landed on the dock, just as my heroes grabbed me.
The bags and Jerry cans came next, and than The Captain, three of us grabbed him to stop him falling backwards and we made it, soaked, shaking but safe, man the things we do for fun...haha
We managed to get onto the net and talk to my mum and dad, my girls Bek, and Maddy, but could not get in contact with my boy Tim, no matter how many times we tried, and also called The Captains daughter Marian and son Robin, and I managed to message my best friend Lyn.
It was so nice to chat to them all although it was way too short conversations, but at least we were able to get in contact and it was something, although we will miss Christmas with our family and friends we may not be there in person guys but we are, in our hearts.
After our Skype calls we had a bit of time to kill and I was really trying to put off the ferry ride especially getting back on board it, so we decided to go have a look at the little museum here, we just poked our heads in for a quick look but will go back another day for a better look.
We get back to the dock held our breaths and somehow managed to get back into the ferry and back to our boat without too much drama.
Oh and we have another crew member, meet Ralph the Reindeer, I have been working on this guy for a month or so, for my Ava girl.
I was going to mail it to her for Christmas when we got here until I found out how long it would take to reach her, so he has pride and place on this here vessel with us, although last night in all the rolling it was obvious he still needs his sea legs. ( see pic)
And he is also our only Christmas decoration.
Well tomorrow is another day.
Diary Photos
24th Dec 2015 Image
No Description
---
24th Dec 2015 Image
No Description
---
24th Dec 2015 Image
No Description
---
24th Dec 2015 Image
No Description
---
24th Dec 2015 Image
No Description
---