Sailng on Windwanderer.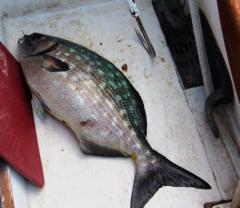 31st Dec 2015
St Helena Thursday 31st December 2015
St Helena Thursday 31st December 2015
Well I think I'll call this post "Sandy the awesome fish slayer" and blow my own trumpet, well just a little bit....haha
After another exhausting day "chilling" I managed to get a whole lot more oiling and painting of the forward deck, I started around 7.30am and by 2pm I was worn out, but she is starting to look good again.
The Captain needed to go to shore to check emails and such and I gave him another list of groceries to get, Yeap I think he came back with 3 of them, but he did manage a lettuce this time.
He also came back with a few sweet pastries, there is a local couple here who make these a few times a week and sell them outside the pub, this is not the first time we have indulged in these, so it was a nice little surprise.
After I had cleaned up and had a rest it was getting onto around 5pm so I decided to have a little fishing session off the side of the boat.
I tend to do this most afternoons and always seem to catch the same kind of fish, we have learned from locals that you can eat them but they are very boney and not that nice, but I have fun anyway, I just catch and release.
But after talking to Louis last night about catching fish and he has been getting some good ones at night with just a small hook and let's it float on top of the water.
So I was after some bait to try this out, I had some stale bread that I had been saving so decided to use it as burley and my smaller line and hook, this one still had sinkers and all on.
Within moments of throwing the bread out, a big fish came around, he was different from all the others I had seen, so the game was on.
I raced and rigged my line to just a small hook, and floated it with bread on, well he was a cagy old bugger and no matter what he would not take the bread on the hook.
This went on for ages, I had The Captain watching as well with great amusement until he gave up and said to yell out if I caught him.
And finally it happened, I tricked him by throwing a heap of bread and my hook and I had him, for about two seconds...haha
He took off like a rocket with my hook and I thought that would be the last I see of him, well no, he came back again, this time sporting a brand new lip piercing, Yeap my hook was in his lip and all.
I got a bigger hook on my line and kept trying, we played this cat and mouse game for what seemed like forever, just when I was about to give up, he was hooked again.
Then the fun started, I had him but my biggest fear was it was such a light line and I knew he could break it easy.
But I played him, I let him run, I pulled him in let him run and so on, The Captain was giving me encouragement the whole time.
I so wish I had a net at this time as I knew I could not lift him out of the water the line would just break, so The Captain grabs the gaff, an low and behold on the 2nd attempt he got him, yes yes yes.
And what a beauty he was, I have no idea what weight he was and after checking the fish chart I'm pretty sure he is a brim, ( and yes that's how they spell it) it's the biggest brim I have ever caught.
Not only was he now sporting two lip piercings when I was filleting him I noticed he had another hook down his mouth.
This guy has been playing the game with a lot of yachties around here.
We dined well on him, there is nothing like fresh caught fish straight out of the ocean.
And my hero stakes went up a bit in The Captains eyes...haha
Well tomorrow I a another day.
Diary Photos
31st Dec 2015 Image
No Description
---
31st Dec 2015 Image
No Description
---
31st Dec 2015 Image
No Description
---