Sailng on Windwanderer.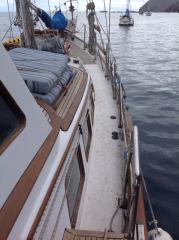 2nd Jan 2016
St Helena Saturday 2nd January and Sunday 3rd January 2016
St Helena Saturday 2nd and Sunday 3rd January 2016
Well it's the same old same old, happening here.
The Captain went to shore this morning, while I stayed home and chilled, ( painted,  scrubbed and oiled the boat) 
But she is really starting to look good, although I have to keep coming in to rest every so often, as its hot and when that sun shines through man it's a killer.
Late afternoons I fish and The Captain plays his guitar, now this is really chilling.
I am still trying to catch these what they call brim fish, man are they cagey, how do they know when the bread is on the hook? Serious they never touch it, I've tried all different types of hooks but I really just have to trick them. 
I actually have had two on the hook, one broke the line in a second, the other was just total chaos.
I hooked him, he took off like a rocket, I jumped up and the line tangled around my other line out, ( I always have two on the go).
So get that line in, fish still on the other one racing away, than I knock my reel in.
Well there are shouts and what not, the captain grabs the gaff, we hook the reel back on board, fish still on the line, I had no hope of playing it.
I tie the reel to the life lines and race to the front of the boat to see what's going on as the fish had swam off in that direction. Get there and the line is caught around the front buoy, fish still on.
So race back get the gaff hang off the front of the boat trying to free the line, I can see this mother of a fish and a swear it was laughing at me, it gives one almighty flick of its tail and bam, gone, line broke.
Yeap there was a lot of pirate language going on I tell you, and all I can say is he is one lucky fish.
I now am using three hand lines and have dug out a reel and light weight rod, all different types of rigging, bait and what not, I gave got serious and the hunt is on big time.
Well tomorrow is another day.
Diary Photos
2nd Jan 2016 Image
No Description
---