Sailng on Windwanderer.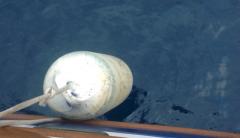 8th Jan 2016
St Helena Friday 8th January 2016
St Helena Friday 8th January 2016
Well today was a day on the boat, after I had finished the painting it was back to the oiling of the timber trims.
I started fairly early in the morning and went at it all day, other than a few hours midday but only because The Captain made me come in out of the sun for a few hours.
I actually enjoy the oiling as it's easy and you just sit there, well that was until I got towards the back side section, I guess I was getting tired and should have given up for the day.
I was getting frustrated as there are ropes, ladders, fenders, winches, and shrouds all in the way and I was trying to wrap the ropes up out the way so they would not hang in the oil sections, (this section of the boat is always the hardest as there is just not enough room to move) also it did not help that we were rolling from side to side and the wind was picking up a fair bit, I had a container of oil and brushes in one hand, ropes in the other, trying to wrap them around the rail, when it happened, Yeap I up ended the container.
When I say oiling, the product we use is called tropical teak oil and sealer, it looks almost like a paint.
When we first researched it they said you only need one coat and it would last around 4 years, well maybe if your boat is a dock queen that is.
In all fairness we can get about 1 year out of it and than it starts looking shabby.
I know varnish would look so much better, but it's hard work and we have a lot of timber trims. This product is easy to apply and all you do is wipe off the dust and apply another coat, it just blends in with the rest of it.
Now when the container upended at least it didn't go on my clean freshly painted decks, it went overboard, I was thinking how lucky am I, until I looked over, the whole outside section of the boat was covered in it.
Omg what a mess, the ladder was also covered and the fenders, I raced and grabbed some rags and hanging off the ladder, rocking and rolling, I tried to wipe up as much mess as I could, but now my feet are covered in this mess as well.
Trying to climb back up on deck with a rolling boat, and trying hard to stand on rags so I would not get oil everywhere on deck sure was a challenge I tell you, and that was it, with pirate language flying I spat the dummy, I downed tools went and had a shower and a stiff drink.
Man who says living on a boat is easy, well I did after my second drink...haha
Well tomorrow is another day.
Diary Photos
8th Jan 2016 Image
No Description
---
8th Jan 2016 Image
No Description
---