Sailng on Windwanderer.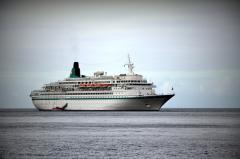 11th Jan 2016
St Helena Monday 11th January 2016
St Helena Monday 11th January 2016
Well today was a shore day.
This time we have been on the hunt for some lettuce, well you can't have a salad with all the fresh ingredients we now have with out a lettuce, and do you think we can find a single god damn lettuce, no way.
We gave up on the hunt, and went to the pub and got on the Internet, after a few hours there we decided to head back to the boat, we had also heard a little rumour that a Cruise ship was coming in.
We get back out on the street and there are Germans everywhere, Yeap looks like it came in.
I really think it was an over 60's cruise as there was really no young ones walking around, and a lot had walking sticks, they sure were puffing and panting walking up the street.
I actually felt sorry for them as I know how that feels, man do we puff and pant going up that hill.
We almost lost faith in this little island, as they almost had the dog and pony show happening, well on a little scale.
The first thing we noticed was that a statue of Napoleon had magically appeared on the steps of the local pub, down towards the wharf they had a fete happening, there were little stalls here and there selling anything from food, ice creams and Nic knacks.
They had music playing from another area, little vans taking people on site seeing tours, but it actually had a nice little excited vibe happening.
Until we got to the dock that is, they had fenced off a little section on the steps, but it was right where our jerry cans are that we fill up with water.
As our water maker is not working at the moment this is the only way we can get water, we have now brought two more, ( Yeap we found another one today on our search for lettuce) and we had borrowed Ave del Mar's as well.
So that made a total of seven Jerry cans to fill.
So we get to this little roped off section and the guy standing there says are you from the cruise ship,( are we really looking that old..haha) we say no and he says you can't come in this section.
Like hell we can't, man my blood boiled, who do they think they are, they come into the island and think they can just take over.
I looked at The Captain and he says well it looks like we have a problem, myself well with a bit of pirate language flowing just lifted up their little rope and walked under.
The Captain came next, and we just went about our business with daggers in our back the whole time, the guy from the cruise liner was not happy.
Then we needed to get all the cans down to the waters edge, but they had taken up the whole section there as well with their boats that they were bring people ashore on.
Finally they left with one of their boats, and we waved to Alex in the ferry, he comes over to get us, but these guys had put up fenders so he could not get real close.
I went to grab one of the Tarzan ropes and they had tied them all up out of their way, God love them.
Oh man I thought my blood was boiling before, this time I was so angry I said all my pirate language under my breath, as I think I would have even shocked myself if I said it out loud..haha
I undid the ropes, more daggers flying and took a little jump and swing and landed on the ferry, the Jerry cans came next than the bags and finally The Captain and we made it.
Lesson learnt don't go ashore if there is a cruise ship in harbour.
Well tomorrow is another day.
Diary Photos
11th Jan 2016 Image
No Description
---
11th Jan 2016 Image
No Description
---