Sailng on Windwanderer.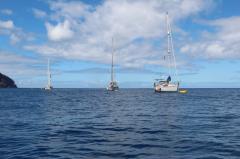 18th Jan 2016
St Helena Monday 18th January 2016
St Helena Monday 18th January 2016
Today was a shore day once again.
The ferry comes to get us and it felt like it stopped at almost every yacht here, it seemed everyone wanted to come to shore, man did we have a boat load.
There is now 13 Arc Rally boats here and man is it crowded.
They were going on a whale shark boat trip, there were a few kids as well and they were all very excited.
It was kinda bedlam when we got to the dock with everyone trying to get off the ferry at once, there were people bags, Jerry cans you name it, all getting thrown ashore, everyone talking at once, man we were so glad to walk away from it all, we really don't do crowds well.
We go and hunt out Mark as The Captain had a bag of bits and pieces to get repaired, and talked to him some more about pulling the boat out.
We walked away deciding that we will pull it out here, Mark said to go ask Michael ( the Swedish chef ) and he will tell us the full price, serious we will never know how much,
Mark laughs after we explain that we can't understand a word he says, so he offers to get the price for us.
Then onto port control as they look after the cranes and stuff, we have became quite good friends with Steve and Brian and sat with them for quite awhile just chatting about anything, and also laughing over the Swedish Chef they agree also, that that's who he sounds like, at one stage we were all mimicking him.
So after talking to them we finally agreed that this is the place to haul her out, now we just have to arrange everything, we need to get paint sent over from South Africa as well as fibreglass resin.
We do our usual Internet and sad grocery shop, (it's only happy when I can get everything), and head back to the dock, and once again get onto the Ferry with the crowds.
We sigh with relief once we get back to our little haven, well as long as you don't look sideways and see all the other boats around, have a drink and decide that we are not going to take the boat out here...haha
This happens daily sometimes it can change in an hour, Yeap we really have not made our minds up at all.
Well tomorrow is another day.
Diary Photos
18th Jan 2016 More Arc Rally boats
No Description
---