Sailng on Windwanderer.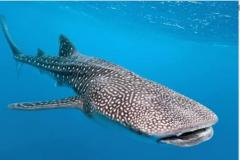 19th Jan 2016
St Helena Tuesday 19th and Wednesday 20th January 2016
St Helena Tuesday 19th and Wednesday 20th January 2016
Well I'm excited today. I saw my very first Whale Shark.
The last few days I have been busy cleaning the outside of the boat. Man it's a big job, she has been so neglected for so long.
It's not an easy job at all and I can only manage to do a section at a time, The Captain ties me off with a couple of ropes so the dinghy will not sway too much and I stand there rocking and rolling and try to scrub.
It would all go so much easier if the boat would stay still, and the ocean was calm, but we are talking St Helena here it's never really calm in this anchorage, and I have to admit that all that movement makes me seasick.
The Captain has had to go ashore each day so I can't do it while he is not here, as I need him to move the ropes when I finish one section, which is fine by me, it gives me a change to recover a bit.
We are still having problems with the water maker and he has been talking to the tech guy in America so we hope that is getting sorted out, the transmission looks like it just needs some bolts and tighten the ones that are there, so no seal needed which is great.
But we do need the strut fixed and the shaft realign so that is a big job, as for the generator well it's all back together and we are waited for a gasket material to set and will try it tomorrow fingers crossed it will work.
So today I was up early and cleaning the side of the boat as it was quite calm, at around eleven The Captain needed to go back to shore, so I downed tools and came and had a little rest.
While The Captain was away I decided to have a little fish, I was not having much luck so decided to drag my weary bod up and get a different lure, as I was about to sit down I saw it.
I massive Whale shark, he swam down the side of the boat, under the back had a little rub, under us then came back out the same side and swam away.
Omg, I was so excited and wanted to tell everyone, but no one was there, most of all the Arc boats have gone now thank god and we are The last boat out the back of the anchorage again, so maybe that's why he decided to come check us out.
It was just sheer luck that I was standing at the time and happen to be looking in the water, as I would of never seen it, they really don't splash or surface like other whales.
The Captain came back about 5mins later, very miffed that he missed it, I was sad that he missed it too, as this sighting was right up there with the whale we saw in Simonstown, it sure was something to see.
Well tomorrow is another day.
Diary Photos
19th Jan 2016 Google image of a whale Shark.
No Description
---